Welcome to my website!
My name is Keith Morant and I am an artist based in Christchurch, New Zealand. I have been a painter for over fifty years and my refusal to compromise in my creation has meant that life has not always been easy. However, over recent years there has been some international recognition of my work enabling me to travel and show my art worldwide.
This site is an historical overview of my art and a record of some of the journeys and exhibitions that my wife and I have enjoyed over recent years.
For more about my art and philosophy see: www.keithmorant.com
KEITH MORANT:

Born in England, Morant worked and exhibited in London until 1973 when he moved to New Zealand and settled in Christchurch. He has drawn and painted obsessively for as long as he can remember and, while classically trained, has always followed his own path of individual expression.
Since the 1980s he has exhibited extensively on the international stage, holding shows in London, New York, Miami, Toronto, Tokyo, Beijing, Melbourne, Istanbul, Valencia, Madrid and particularly Italy.
2017:
Thanks to John and Souheir Rawlings of Art And Soul, I have been very fortunate to have been awarded an Artists Residency for the month of April in Venice. Tricia and I were given an apartment in the centre of the city with a separate studio for me to work in towards an exhibition at the end of our stay. (See under Italy 2017)
'RINGING TRUE'
This exhibition was presented at the beautiful Buddhist Temple and Fo Guang Yuan art gallery in Christchurch.
It is the largest and longest presentation of my work to date. The opening was a tremendous event with many art friends old and new turning up to support my efforts.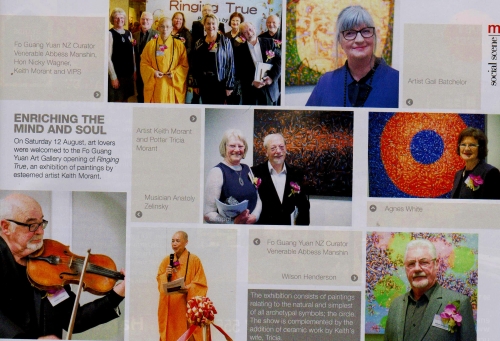 This year also saw the establishment of the Morant Foundation:
STATEMENT OF INTENT:
The Morant Foundation is a legally registered Trust and has been put in place for the protection and conservation of artwork by Keith Morant of Christchurch, New Zealand.
The intentions of this trust are to promote and preserve the artwork of Morant while at the same time creating a greater awareness of art and artists in the region of Canterbury and New Zealand. While all basic capital and collateral rests on the property and work of Morant, it is through the organising of exhibitions and promotion of local artists that the trust will proceed.
It is intended that the Foundation will curate at least one exhibition annually of selected artists for display at a local venue. Expenses for such exhibitions will be underwritten by the Trust to alleviate financial pressure and enhance reputations of local creators.
EXHIBITIONS AND AWARDS:
2017:
Awarded Artists Residency and exhibition for the month of April in Venice. Solo exhibition of over 250 paintings at Fo Guang Yuan Art Gallery, Christchurch, New Zealand.
2016:
Manhattan Arts, New York. Award For Exellence in International Art exhibition 'New Beginnings.'
Honoured with 'Palm International Art Award. Leipzig, Germany.
In May of this year my wife and I staged our first joint exhibition of my paintings and her pottery. This was held at the Eastside Gallery, Christchurch, New Zealand. It was a wonderful show with many enthusiastic viewers and buyers:
2015:
Solo exhibition at Magma gallery, Christchurch, New Zealand.

2015:
April: Award from Manhattan International Arts, New York. 'The Healing Power Of Art' International exhibition.
2015:
January: Honoured with 'Certificate Of Excellence' at the International Palm Art Awards, Leipzig, Germany.

2014:
Solo exhibition at Materia Grigia Gallery , Venice, Italy.
Exhibited 'Little Treasures' with Trevisan International Art, Bologna, Italy.
Seventieth birthday celebration exhibition of seventy paintings, Eastside Gallery, Christchurch, New Zealand.

2013:
Received the `Peoples Choice Award` at International Art Exhibition 'Little Treasures' Bologna, Italy
Exhibited at the Museum Ateneo de Madrid.
Citation and Award from the Vajra Art Project, Kathmandu, Nepal.

2012:
'Morant In Manhattan' Solo Show, Access Art Gallery, New York.

2011:
Exhibited 'Songs For Sydney' Global Gallery, Sydney, Australia.

2010:
Honoured with Trevisan International Art awards for services to art in Ferrara, and Bologna, Italy.

2009:
Awarded 'President of the Republic's Medal'. First prize at the Premio San Valentino International Art Exhibition, Perugia, Italy.

2008:
Honoured at Galeria de Marchi, Bologna, with 'Premio Ercole D'Este della Critica, (Critic's Choice) Award.

2007:
Lorenzo Il Magnifico Award. 'Premio alla Carriera (Lifetime Achievement in Art.) Florence Biennale, Florence, Italy.

2007:
Presented with the Trevisan International Art Award at 'The Spirit In Art' exhibition, Estense Castle, Ferrara, Italy.

2006:
'Music For Manhattan' Solo show at Broadway Gallery, NewYork.

1988:
'Morant In London' Solo exhibition, New Zealand House, London.
1985:
Montana National Art Award, Gisborne, New Zealand.
Artists Statement:
My art is always a journey of discovery into the essence of being. It is an effort to externalize the truth of my own existence on as many levels as possible and communicate a greater awareness of the quality of life. It is an attempt to generate enquiry into the greater spheres of understanding which lie beyond conventionalized intellection. For me, art is always an answer to which the question must be found.

In trying to come to terms with my compulsion to paint I have read deeply on the subjects of art, artists, philosophy, psychology and human creative history in general. It has been my desire to comprehend not only the multifold meanings of art, but more importantly, the reasoning behind my own innate desire to create. My findings, while certainly enriching my mind as to the necessity of art as a natural balancing process of the collective human psyche, has not given any satisfactory explanations or conclusions as to my personal predilection. Indeed, my researches have often lead me in a contrary direction where I am often confounded by the perversity and unreliability inherent to the so-called 'art scene'. Of course, in this age of ultra-communication and media conditioning, the dissemination of knowledge is at once both manipulative and out of control. The plethora of paradoxes and downright absurdities one encounters in the jungle of jargonese of art writers alone is enough to confuse the most enlightened of researchers. My own investigations have led me to conclude that, on one hand, any art knowledge can only be related to in retrospect, and on the other, while it may be of certain educational value, such knowledge is quite useless as an indicator to future directions or states.

I have been painting now for over fifty years and I believe such experience has given me an evolving advantage where sometimes-satisfactory conclusions may be reached. However, every painting is a totally new experiment and I know that I will never live long enough to experience any form of ultimate satisfaction or so-called success. What small accomplishments I do experience must stay deep within myself in the knowledge that they may not necessarily communicate their fullest potential right away. I must always work for the future in the hope that someday my understanding beyond knowledge will communicate whatever it is that nature is saying through me. It is my wish that my own work, while initially seen only by the eye, will eventually be perceived by mind, and thus prove conducive to some small expansion of human consciousness.
Publications:
'Art Notes' (The Psychology of Creativity) published by World Art Media, New York Art Magazine Vols 11-3/4, 11-5/6, 2006.

Interview with Yilmaz Zenger. NY Arts Vol 11-9/10 2006.

Article: Morant in New York' Avenues Magazine, Christchurch, New Zealand. 2006.

Music For Manhattan reviewed by Simone Cappa, New York, vol 1/2 2007.

Review 'Contemporary Hieroglyphics' by Jill Smith. NY Arts Magazine 2008.

'Premiato a Ferrara e a Firenze' Article in 'Art Journal'. Italy. 2008.

Front cover and feature article, Art Journal, Italy. 2009..

'Morant a Venezia', booklet for Materiagrigia gallery, Venice. 2014.