ITALY 2007
Tricia and I took the long journey from New Zealand through Australia, Dubai and Venice to eventually arrive at this truly beautiful ancient Italian city. We have been to many art exhibition openings all over the world but never had we seen one a spectacular as this. Suddenly there was a loud beating of drums and fanfares of trumpets from outside of the castle walls, then, across the drawbridge marched a beautifully dressed troupe of medieval heralds. They marched around the castle courtyard and gave a spectacular display of traditional flag-throwing. This was followed by the speeches of welcome from various dignitaries and concluded with Paola Trevisan declaring the exhibition open and (to our surprise) presenting awards.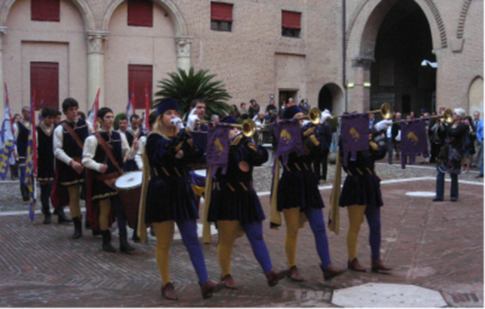 Exhibition opening ceremony within the castle walls.
The show was titled 'Spirit – The Spirit In Art' and was curated by Paula Trevisan of Trevisan International Art.
I felt myself to be very fortunate to be part of this exhibition. I found Paola Trevisan to be the best curator I had ever met. Her professional and organisational skills are of the highest standards. Her deep knowledge and passion for art and her integrity as an entrepreneur are a great boon to any artist.
Spirit In Art Mixed media on canvas 580 x 580mm
Incredibly, and to my complete surprise, I was honoured with an award. This was a beautifully engraved plaque inscribed for:
'The Manifestation Of The Spiritual In Art'.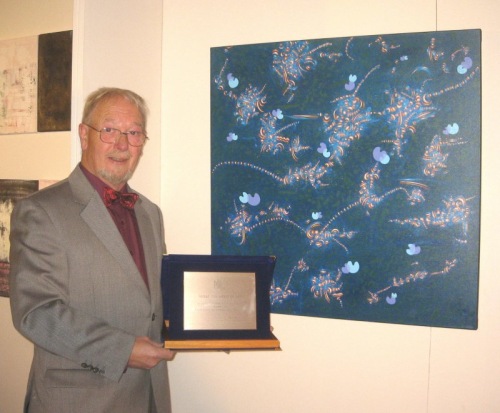 With award and 'Adriatic Dream'.
Thanks to my New Zealand curator, Alexis Brown, and her expert packing, my paintings arrived safely in Italy and were hung in the best possible light by my new curator Paola Trevisan.
With 'Adriatic Dream' and 'Fruit for Ferrrara'.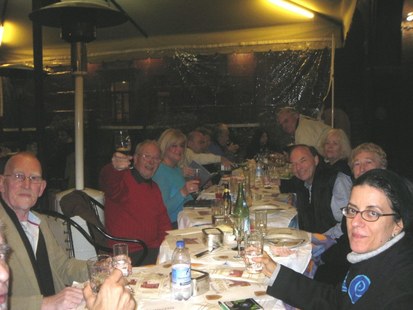 Great dinners were enjoyed with the artists
With Tricia at the celebration dinner
Following our wonderful time in Ferrara, the next stop was Florence.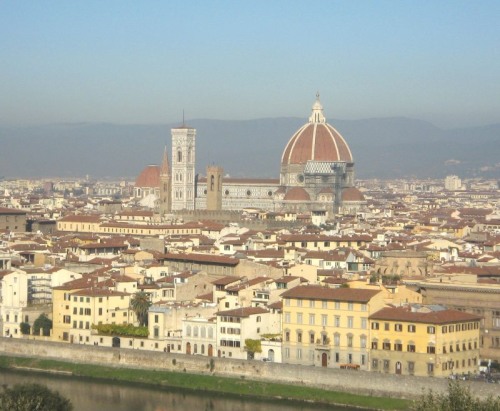 For the great Florence Biennale. I had painted and submitted a triptych titled:
'Ars Longa'
The reasoning behind this work is as follows:
ARS LONGA
ARS LONGA, VITA BREVIS. (Art is long, life is short.) Hippocrates. (460-357 B.C)
When first invited to submit work for the International Florence Biennale, I was naturally elated, but at the same time I was somewhat concerned as to what I should paint. I began thinking of Italy and of that country's great history, especially the Renaissance. I had recently been to New York and visited the wonderful collection of 16th and 17th century Masters at the Metropolitan Museum Of Art. When viewing them I realised that this was the key – especially the religiosity inherent to the triptych. I wanted to express something that imparted an awareness of history and art yet simultaneously allude to the transience and illusions that humanity is constantly subject to.
This triptych is the result of many levels of deep influences and considerations on art and life. Besides Hippocrates, many great minds from Plato and Pythagoras to Kepler and Kandinsky come to bear on the predominant symbols on each canvas. These symbols are (as are the three primary colours) universally associated with art.
Examples that come to mind are the late eighteenth century exquisite spontaneous ink painting of 'circle, triangle, square' (Idemitsu Art Gallery, Tokyo) by the Japanese Zen priest and artist Sengai. Or, when in 1904, Cezanne's advice to his protégé Emile Bernard was that he "should treat nature by the cylinder, the sphere and the cone."
While I have purposely used the initial words of Hippocrates' great maxim as the title, I am well aware that, according to scholarly mores, his words may sometimes be misconstrued. However, the general acceptance of the meaning is that, while life flourishes so briefly, the ongoing communication and nourishment of human creativity never dies. This is enough to indicate my purpose.
There is little more that can be said, as the painting will have it's own life. I have been a painter for over five decades now and I regard this triptych as one of my (if not the) most important works to date. My only wish is that it may find a good home and continue communicating the meaning of its title.
Ars Longa (detail)
Once again I must take my hat off to the Christchurch fine art curator, Alexis Brown, who negotiated with the Italian authorities on my behalf. She also crated and dispatched my canvases to Florence.
Biennale banner
The exhibition was held at the massive medieval Forte de Basso. This was to be the biggest exhibition of my life; there were 856 artists and over 5000 works on display.
Biennale opening ceremony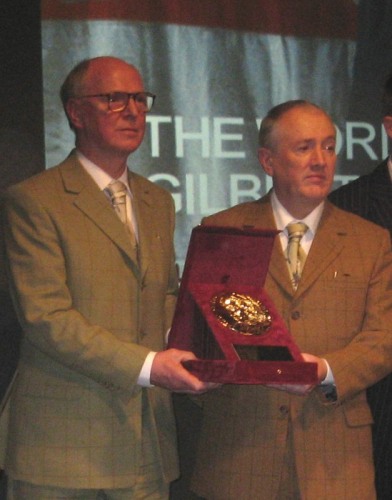 The renowned British artists 'Gilbert and George' were the guests of honour.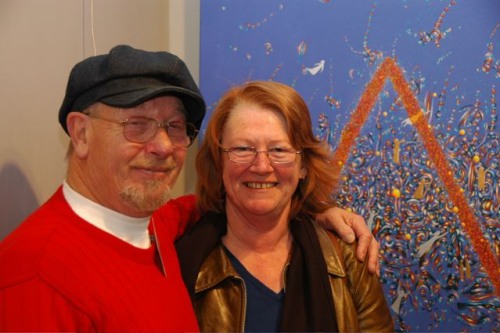 With Tricia at the Biennale
With New York Art Critic Ed Rubin
A great artist and friend that we made on this trip was Karl Maenz of Switzerland.. He exhibited beside me in Ferrara and the Biennale.
Paola Trevisan visited my stand. The exhibition catalogue weighed over 12lb (6 Kilos)
The Biennale was a tremendous success with many thousands of tourists as well as natives passing through. At the closing ceremony a great stage and auditorium was set up to accommodate over 2000 artists and friends. There were many speeches and on the stage were a line of judges. These were the cream of the art world; directors of many national galleries. Honoured artists Gilbert and George gave a speech and question and answer session and finally the awards were announced for each category of art. Names were called out and the chosen artist had to go up on the stage, (like at the Oscars) receive their award and shake hands in turn with all of the judges.
I was totally flabbergasted when my name was called out to receive an award. To be honest, I did not believe it and almost missed receiving it. I was honoured with the Lorenzo Il Magnifico Award - 'Premio alla Calliera' (Lifetime Achievement in Art).
Needless to say, I was over the moon! This was my first venture into Italy and my work had netted two major awards in as many exhibitions.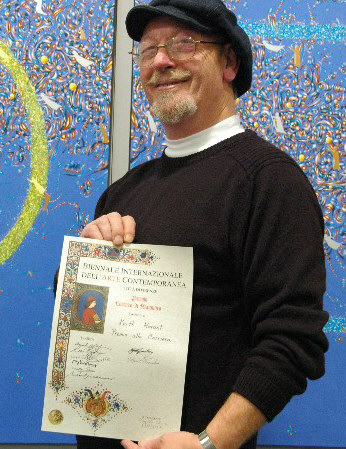 The closing dinner of this great event was truly amazing. Over a thousand people sat down in one great medieval hall to a five course sumptuous feast.The finest wines were served and the voices of great Italian opera tenors and sopranos sung us through our meal.
Florence Biennale closing dinner