In October 2013 I was invited to exhibit in Spain. It was at an exhibition of 16 selected international painters and sculptors to be held at the gallery of the Ateneo, Calle Prado in central Madrid. It was curated by my Italian representative Paola Trevisan of Trevisan International Art and the Spanish artist and curator, Rosa Mascarell.
With Paola Trevisan

The Ateneo is a grand old building that has been the art and cultural centre of Madrid since 1822 and I felt honoured and privileged to be showing my work at such a respected venue.
Tricia and I decided to go to the exhibition and make a holiday of it by spending several weeks travelling around Spain. We booked into a hotel in Plaza St Ana, central Madrid. This was a small but very comfortable hotel and just a short walk from the gallery.

The exhibition was officially opened by the President of the Ateneo and was a great success with many visitors from the Spanish community.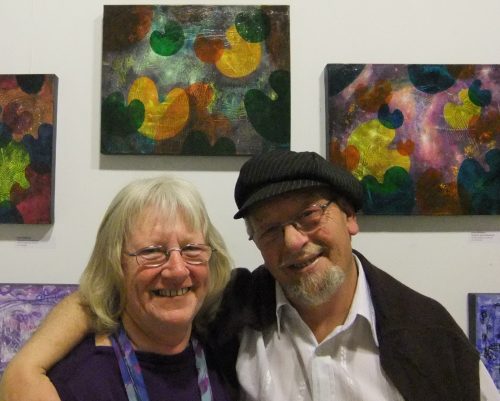 At the opening of Pasajes

Madrid is one of the greatest art Capitals of the world and we were able to fulfil many dreams by viewing the best of European art. The three greatest Spanish art museums are located along the Paseo del Prado boulevard and represent the Golden Triangle of Art. It consists of the Prado Museum with the masterpieces of Diego Velazquez and Francisco Goya, the Reina Sofia Museum with Pablo Picasso works (especially 'Guernica') and the Thyssen-Bornemisza Museum with the collection of great European paintings including Rubens, Murillo, Rembrant and Monet. We visited all of these galleries more than once (sometimes three times) and for me it was a feeding frenzy of the soul.
We then travelled to that other great art city – Barcelona. We stayed for four days at the Rialto hotel. This charming hotel was right in the city centre and was actually the birthplace of Joan Miro! (His father, Miquel Miro Adzerias, was a silversmith and clockmaker and had his shop there). Of course we travelled all over the city from the harbour and beaches to Gaudi's famous cathedral, Sagrada Familia. Most important to me though were the Joan Miro Foundation and the Antoni Tapies Foundation. These great artists, especially Miro, have been very important influences in my own creative growth.
Barcelona

We returned to Madrid and booked a bus-tour through Andalucia. We travelled through Cordoba to Seville, where we stayed for two nights. We then went to Granada where we were treated to the best in Flamenco dancing and a wonderful day at the incredible Alhambra. We returned through the amazing landscapes of olive-growing Spain to Toledo. Here again, an incredible historical and art experience. Toledo was the home of Dominicus Theotocopulous, 'El Greco' (1541-1614) and it was wonderful to get a close-up view of the works of this great Master.
Tricia in Seville

We returned to Madrid with another week of sightseeing and generally enjoying warm Spanish hospitality.