2011 began with me exhibiting again in Bologna and Toronto. I was due to fly out to the Toronto exhibition in April but because of the terrible earthquakes between November 2010 and June 2011 our city was all but decimated and I could not leave our home. The loss of life, homes and businesses was devastating. Fortunately we survived and while there were considerable personal losses and damage to our home, my newly built studio held up well. All city dealer art galleries were either lost completely or closed down to await major repairs.
For me, this was a time of trying to give something back to the community and, with this in mind, I made a point of trying to sell some of my art for the cause. My initial contribution was through a North Island art auction to which I donated my first works relevant to the tragedy that had engulfed us. There were six paintings and I titled them the 'Earthquake Mandalas'. The successful bid finally came from one of my Australian collectors in Melbourne. All proceeds went to the St Johns Earthquake appeal fund.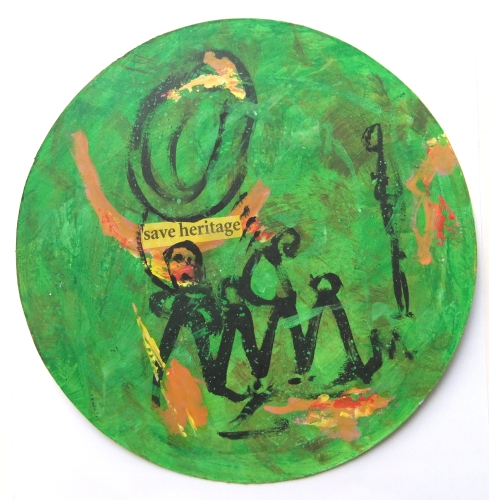 Earthquake Mandalas
Meanwhile, a good friend of mine, Tom Davies, who is a fine maths teacher and blessed with great entrepreneurial skills, came to the rescue of many artists by opening a small art space in one of the worst quake-hit areas of Christchurch. This was the 'Pop Up Artspace' and worked under the newly formed and aptly named umbrella organisation 'Art Nomad'. He and his wife, Lorna, with frinds Alma Karabegovic and Refik Shadich, quickly and very efficiently put together not only a space for artists to display their work, but also a new website for greater exposure: Check it out on www.artnomad.co.nz
This was a uniquely brave gesture from which the artists and community has benefited hugely. Greater success of this small space has been achieved by our friends designating every Friday evening as 'wine night' where people are invited to join the artists over a glass of wine. Each week an artist is chosen to give a speech and field questions relating to his or her work. This has proved, in this 'winter of our discontent' a great heartwarming magnet that attracts more souls every successive week.
I felt that the opening of this much needed 'Art Space' could benefit from some means of greater exposure so I donated my recently finished canvas 'Christchurch Vibrato' to the earthquake relief. This painting was exhibited at the opening and advertised that it was to be sold by silent auction over a period over two weeks - all proceeds to go to the Earthquake Relief Fund. This worked very well and I am pleased to say that it ended up attracting a fair sum for the cause.
Christchurch Vibrato
Since then - our 'nomads' have had to relocate to safer premises and I mounted the final 'Swan Song' exhibition as a celebration in honour of the absolute optimism and fine creative spirit of these people in the face of such tragedy.
In homage to my Italian curator and the show of the same name in Bologna where I exhibit every year, I titled this show:
'LITTLE TREASURES'
Swan Song II
An exhibition of small paintings
By
KEITH MORANT
This is the final exhibition to be held at
Pop Up Art Space
87 Main Road
Redcliffs
Christchurch
This exhibition will be on view from Monday August 22nd.
Grand opening and farewell celebrations on Friday 26th from 6pm.
You are especially invited to join us and meet the artist.
Catalogue note:

In my fifty odd years as a practicing painter I have never been offered the 'final' show at a gallery that is moving. Art Nomad are true to the names of both Nomadic and Pop Up. It seems that I am somehow part of a true historical event, being part of the first event when the Gallery "popped up", and now the final event in the present premises as true to their word, they will pack up and move on to pastures new. I am proud to be assured a premier role in the new premises too.

Following the disaster that has gripped our city, Tom and Alma offered myself and other artists a new venue to exhibit our work. Considering our collective and individual recent tragedies, to put together, not only an art gallery, but a website as well, is no mean feat. But to hold, every Friday night, an open evening with guest artists to give a talk about their work over a glass of wine is nothing short of phenomenal.

This has been a truly amazing stimulation of positivity in the face of the prevailing effects of our tragedy. I know that I speak for many artists and friends when I express a big heartfelt thanks to Tom, Lorna, Alma and Refik for this wonderful lifeline of art and its purpose - communication.

I am doubly indebted to Tom, Alma and the crew for the very professional organizing and auction sale of my painting 'Christchurch Vibrato' which fetched a good price for the Earthquake Relief Fund.

So - I have been asked to sing the 'Swan-Song' exhibition. I feel especially honoured to be offered this space. I know that as this door closes – so another will open very soon. Knowing Tom and Alma, I am sure that it is only a matter of 'Watch this space'!

Thank you friends one and all! I look forward to seeing you (and your credit cards) at the opening of 'LITTLE TREASURES".
These are a few of the paintings from this exhibition:
Little Treasure I
Little Treasure III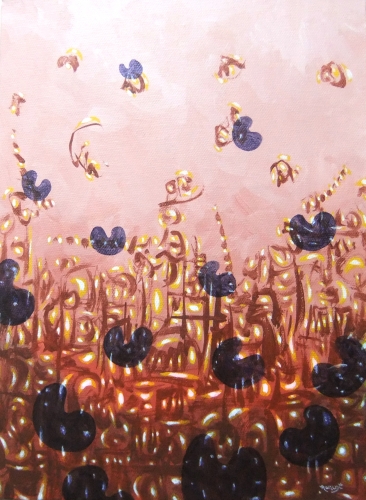 Little Treasure VIII
The exhibition opening was well attended with over a hundred souls and once again dear friend Anatoly Zelinsky played for us.
Little Treasure IV
Little Treasure VI
Keith and Tricia at the opening
Findings I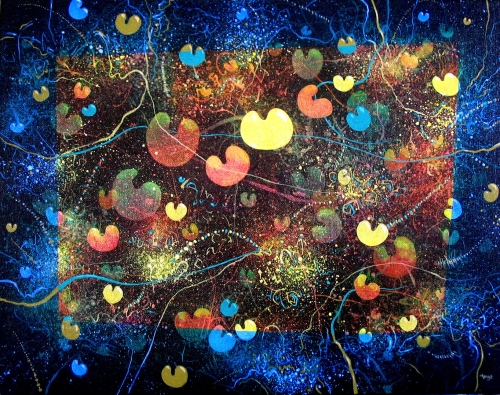 Findings IV
Swan Song I