ITALY 2008
In May I exhibited again with Paola Trevisan at the Galleria De Marchi in Bologna. This show was an international exhibition of small works titled 'Little Treasures'
Yet again, to my great surprise, (in absentia) I was awarded another major prize. This was a fine Raku sculpture by the well known Italian sculptor Silvano d' orsi.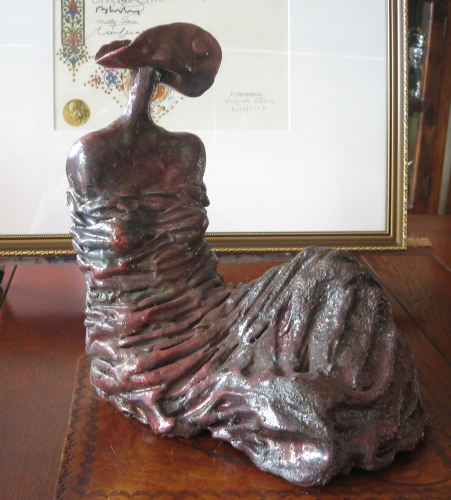 In November of 2008 we flew once again to Italy for the next exhibition at the museum of the Castle Estense. This year the title of our show was 'Traces Of Memory' and I was very fortunate in that Trevisan International Art had chosen one of my works for their main advertising posters. This was my painting 'Come Arrivare' (How do we get there)?
With billboard at castle gate
Come Arrivare? Mixed media on canvas 610 x 760mm
My entry for the exhibition was a suite of four canvases titled 'Music When Soft Voices Die'. This is taken from the beautiful poem by Shelley, who died in Italy in 1822. The poem was for me highly compatible with the evocative title of the exhibition.
Music When Soft Voices Die (Four canvases)
On this vist to Italy we travelled around and visited many more great cultural centres.
We went to Venice:
Across the Lagoon, Venice.
Tricia in St Marks Square, Venice.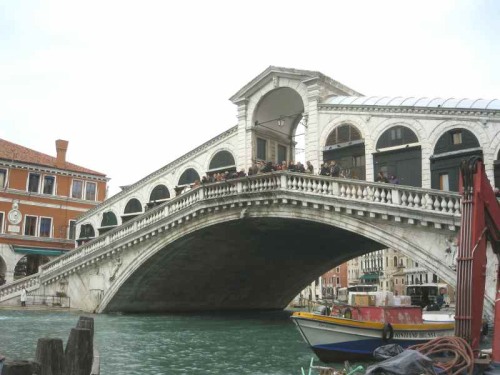 Rialto Bridge, Venice.
Padua:
At the Prato Della Fountain, Padua.
With Sculptor Joe Sloan and Monica in Padua
Pisa: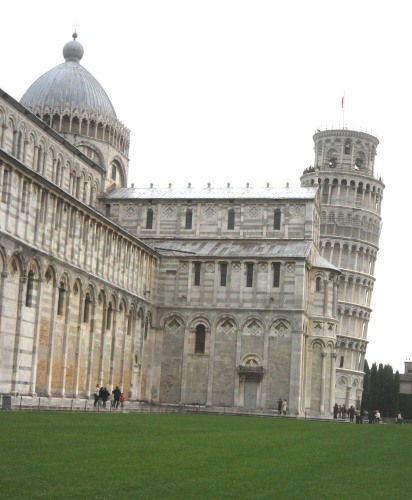 Baptistry and Tower, Pisa
And Verona: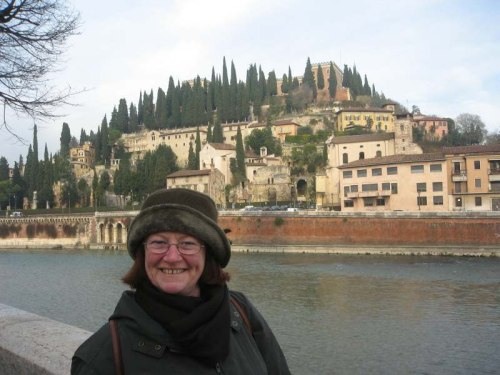 Tricia in Verona
Christmas star, Verona.
Once again the exhibition 'Traces Of Memory, opened at the great castle to the sounds of medieval trumpets and drums echoing across the drawbridge and into the magnificent courtyard where the soldiers performed an amazing display of traditional flag-throwing.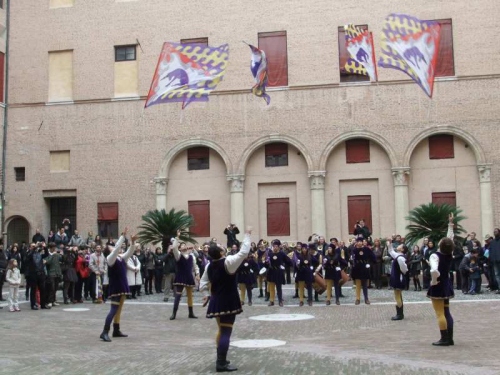 Flag throwing performance at exhibition opening.
The exhibition represented many fine artists selected from all over the world and I was highly honoured to be in such company.
But I was doubly honoured when my name was called out as the winner of yet another award. This was the 'Premio Ercole D'Este della Critica' (Critics Choice Award)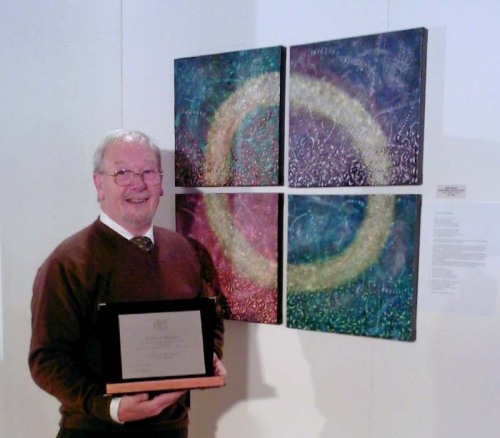 With award and 'Music When Soft Voices Die'.