MANHATTAN ARTS
New York 2020
Presents
https://manhattanarts.com/keith-morant/ 
Creative Principles
by Keith Morant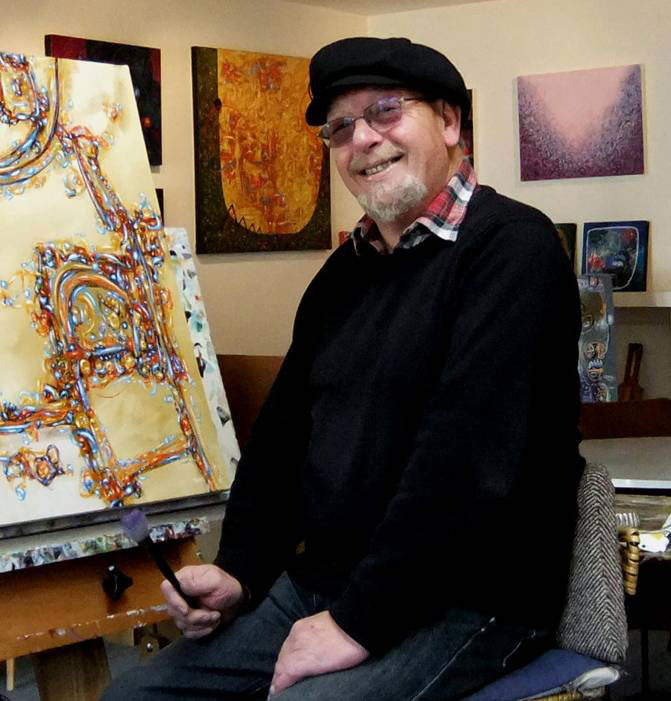 Keith Morant in his New Zealand studio
Keith Morant, morantart.com, is an internationally acclaimed artist who has been painting for over 50 years. His innovative abstract art is characterized by unique curvilinear forms and symbols, contrasting colors, and kinetic expression. He lives in New Zealand and has exhibited in galleries and art centers throughout the world. He has received innumerable distinguished awards including several top awards from Manhattan Arts International. As an extraordinary writer, he eagerly shares profound insight with fellow artists and art enthusiasts. It is an honor to present his new essay here. 
Renée Phillips
MANHATTAN ARTS
New York 2020
Essay By Keith Morant
As we all know, on every level, from birth and growth to atrophy and death, the principle of creativity reigns supreme. Throughout the centuries, our study of the 'laws of nature' have shown us that this great principle is strengthened through variation within pattern and diversity within uniformity. Human creativity is the highest level of this natural path and, alongside of the scientist, it is the artist's function to knock at the door of the unknown.
As the human creative act proceeds, there are certain principles that become more apparent. The most important of these is individual truth. Such truth is defined by its uniqueness and while its inspiration may be drawn from natural sources, it cannot be appropriated (consciously or unconsciously) from another creator's work. If such truth is unique enough in its expression it will impart a sense of the universal and may find a place in the recorded history of local or international cultural progress.
Keith Morant, Praxis, mixed media, 12" x 18″.
Such principles are, as in all nature, simply a matter of growth. They emanate from the internal self and are an evolved intrinsic component of the psyche. A good example of this would be the human signature. While we are all traditionally schooled in writing, it is the uniqueness of our signature (the sign of our nature) that exposes our creative uniqueness.
As society rules, the uniqueness of a signature is the most highly valued of all human endorsements. Its expression is your intrinsic nature and, as you grow, becomes deeply ingrained in your psyche. There are many other levels through which such natural expression is signatory to your being and it is through these principles of natural expression that artistic truth communicates.
Awareness of this phenomenon and the effort to work with it is never easy. The unconscious is your greater awareness drawn from experience and memory. My own analogy for this is if one imagines a leaf on the floor of a great forest, then that leaf is your conscious thinking mind, while the surrounding forest is the great continuum of growth that become the structures of your unconscious. In true creativity the leaf, however erudite and adept in intellectual analysis, is never enough in itself to project your deeper truths of awareness and being.
…one cannot rely on intelligence alone to produce that which may touch and enlighten the souls of the future.
Keith Morant, Grasping By Letting Go I, mixed media, 18" x 20".
As the conscious thinking mind, it is limited in its ability to make decisions that communicate that vital sense of the universal. As any musical composer, poet or painter knows (not to mention the scientists), one cannot rely on intelligence alone to produce that which may touch and enlighten the souls of the future.
As a painter myself, I have found that there is another way of looking at this duality. The conscious mind may logically plan and execute on many levels but it can only go so far. If the decisions being made are through only rational and practical application then they are very limited in their expression. The cerebral cognitive function is not enough. There comes a point where the ultimately desired conclusions can only be intuitive and therefore beyond normal thought processes. If, say, I am working on a certain area of a works surface, I have noticed that simultaneously, through practice and observation, I am subliminally alert to an entirely different part of the canvas. It is as if I am thinking on several levels at once.
Some artists fail miserably simply because they have tried to imitate the techniques and expressions of other artists.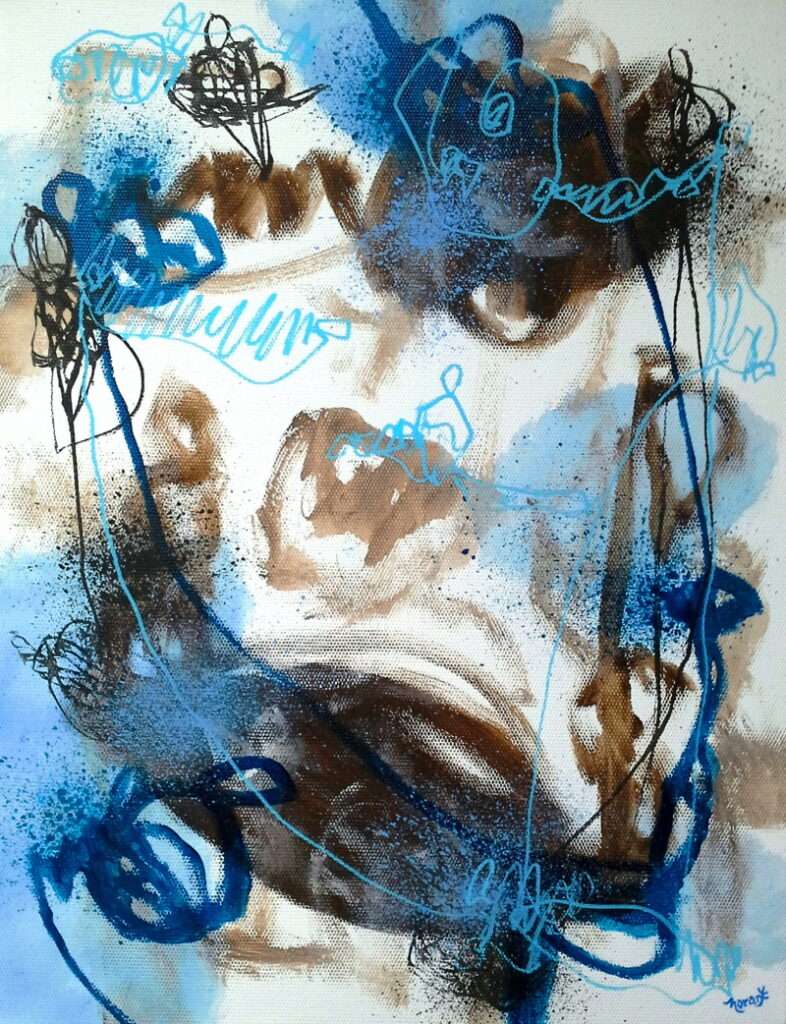 Keith Morant, Grasping By Letting Go II, mixed media, 18" x 20"
This, of course, is the natural and necessary pressure of the unconscious. It is the point where the need for diversity challenges habit and uniformity; it is the area of risk and potential disaster; where my unplanned plans may fall apart. Here is where conditioning is forsaken and where I dance with circumstance; where I take great chances with nature – my nature.
It is through this dual approach that the strength of the signatory in art is established and another great principle of creativity becomes evident. Through sheer persistence and repetition the channels of the cognitive interchange will gain strength. This is the first principle of creative nature. It is easily illustrated by your own alertness to other achievements in creative fields. For instance, how many times have you heard a certain strain of music and been able to name the composer immediately? Or, how many times have you walked into an art gallery and, been able to name a specific painter from a distance. Beethoven is Beethoven and Rembrandt is Rembrandt before any naming of their productions.
It is important to remember that such strength, by aligning with the creative principles, is only achieved through great discipline and continuous practice. As the great poet Keats tells us: "If it does not come as leaves to a tree, it had better not come at all."
Keith Morant, Grasping By Letting Go II,I mixed media, 18" x 20"
It is important to remember that such strength, by aligning with the creative principles, is only achieved through great discipline and continuous practice. As the great poet Keats tells us: "If it does not come as leaves to a tree, it had better not come at all."
The necessity of good practice is essential. It is a matter of personal growth and cannot be substituted or faked. Some artists fail miserably simply because they have tried to imitate the techniques and expressions of other artists. One can always learn from other creators or even teachers but that learning can only be in the realms of art history and methods of application. You do not have to look far to know that any kind of imitation is an anathema. (Nobody taught you how to sign your name.)
Whatever education precedes it, art is always a matter of personal growth. Because you are conditioned to expect acknowledgement, acceptance, even praise, for your efforts, your truth may become a quagmire of uncertainty. Your progress is fraught with all kinds of fear, the worst being non-acceptance. To continue on such a path often demands great courage which is too easily translated as selfishness. However, if you do have the strength to weather such storms, then your survival will depend entirely on the depth of your commitment. It is always about the continuity of practice and strict discipline. It is a matter of internalizing your deepest feeling and projecting it to your utmost satisfaction until, like your signature, it flourishes without thought.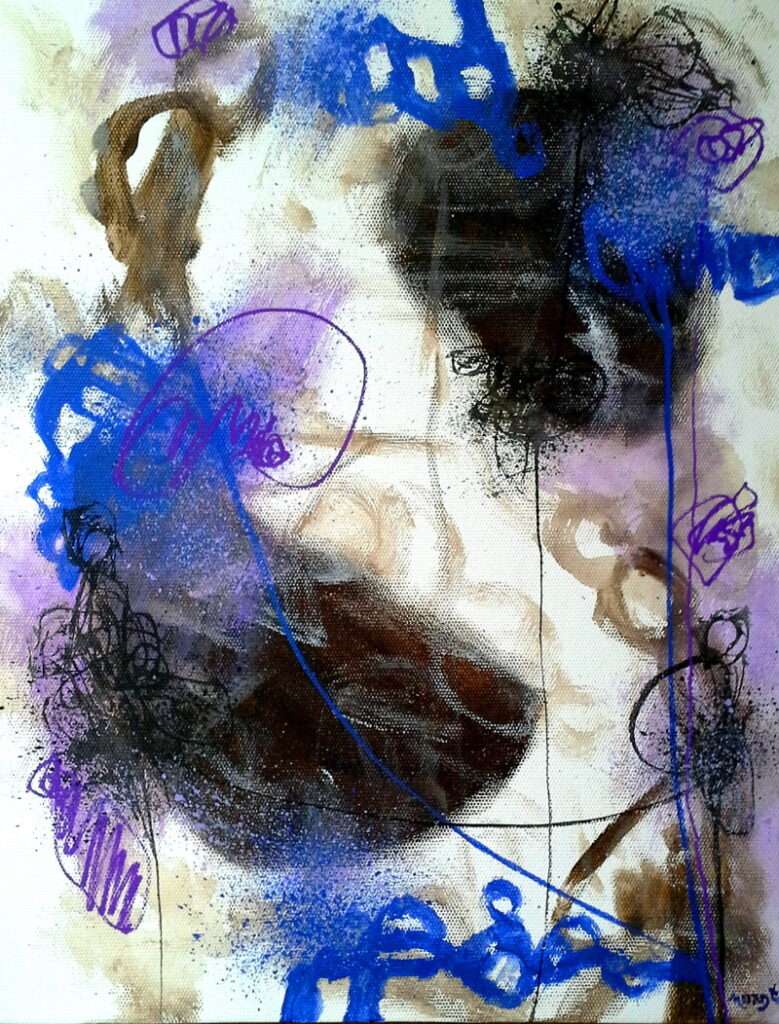 Keith Morant, Grasping By Letting Go IV, mixed media, 18" x 20"
We evolve through many creative principles into the cosmic dance of life and are born to thrive and die through a plethora of miracles. We are all whirling in a continuum of recycled stardust and, if we are to survive as a species, our awareness of these truths can only feed and nourish our will and spirit to greater heights of creative endeavour.
Read "Incubation": A Solution to The Artist's Creative Challenge by Keith Morant 
Read An Interview With Keith Morant With Advice to Artists
 NEW YORK
LATEST FROM MANHATTAN 2018
https://renee-phillips.com/keith-morant-offers-a-solution-to-the-artists-creative-challenge/
 https://manhattanarts.com/what-is-quality-in-art/


 https://manhattanarts.com/keith-morant/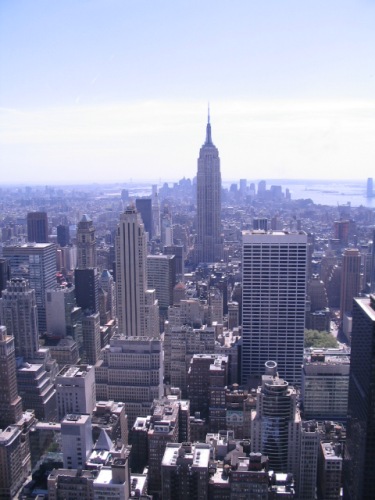 In the late 1980s and early 90s my wife and I lived in New York. I had a large studio on Broadway in SoHo and worked hard to break into the art scene. We had a wonderful and very educational time both there and in London.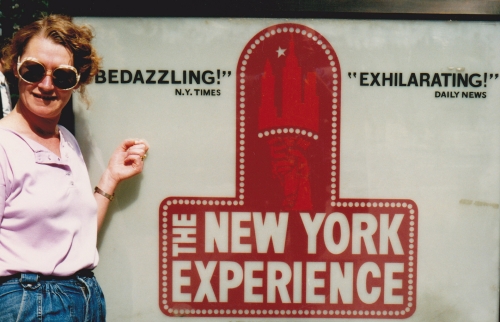 I succeeded in holding several exhibitions. and made many strong connections. We were particularly fortunate in meeting the famed writer George de Mare who introduced us to many people and entertained us for weekends at his family home in upstate New York.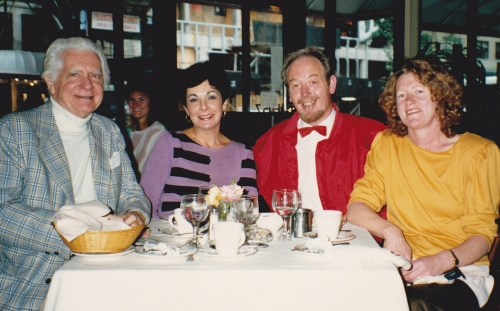 With George de Mare at the St Moritz , NY
Exhibition in Connecticut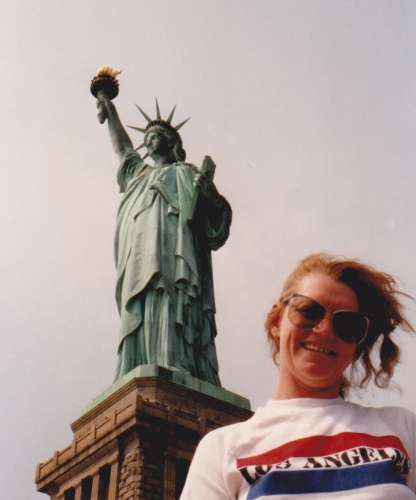 Ladies of Liberty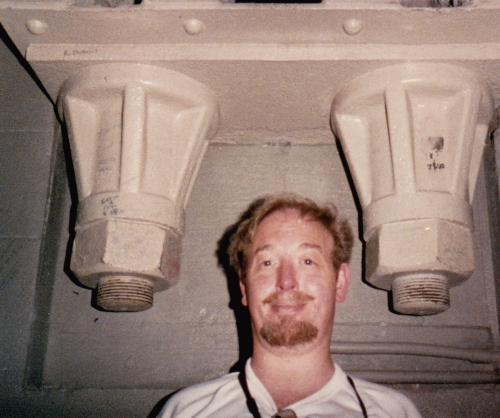 Nuts inside Statue of Liberty
1990 saw us back in Manhattan reconnecting with friends and the art scene. My new large studio was downtown on lower Broadway and right opposite what must be the biggest art supplies shop on Earth. It is called 'Pearl Paint' - six enormous floors of art supplies of every kind. Needless to say, I crossed Broadway many times, often precariously laden with canvases and paint.
My first substantial work was a series of six canvases that I titled the:
'Broadway Suite'.
Broadway Suite, No 1
I worked every day and, looking back at that fruitful time, I realise now how much I was influenced by the energy around me. Also, being in New York with so much great art readily accessible, I see now how for a while there I slipped so easily into an 'abstract expressionist' mindset.
Broadway Suite, No 4
Broadway Suite, No 5
NY Review
Fugue Canvas 1200x 740mm
Exhibition Dinner in my honour.
July 4th, Mercer Street, NY
Morants' in Manhattan.
Unfortunately, because of visa regulations our time in America came to a close and we returned to New Zealand, where life and art were decidedly much slower.
Home again!
However, after 2000 (thanks largely to the Internet) my work began to be noticed. I received many invitations to exhibit at various overseas venues and am happy to say that we have enjoyed many more return trips to our friends in the 'Big Apple'.
I exhibited in group shows with several projects in Europe and America but my first solo show was in New York.

At my first big Solo exhibition 'Music For Manhattan' I was highly honoured with the company of the renowned violist Anatole Zelinsky. He flew all the way from New Zealand to New York just to play at the opening of my exhibition.

Anatoly Zelinsky
My eternal thanks also go to the New Zealand art dealer Alexis Brown. She negotiated, dispatched and helped curate my Manhattan show.
Alexis Brown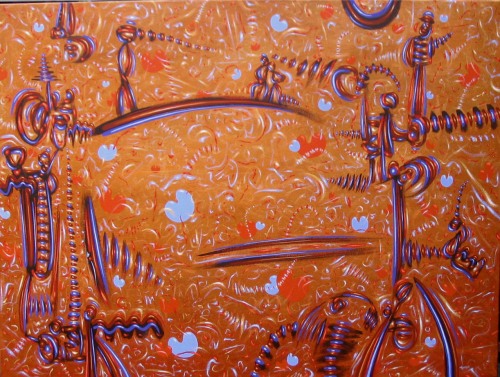 Jamming With Dizzy Mixed media on canvas 760 x 950mm
Alexis joined forces with New York curator Tchera Niyego and together they put together a wonderful exhibition of my work.
Two great curators
Cover of New York Arts Magazine
Music For Manhattan
I considered myself very fortunate to have enjoyed the support of so many good people. The show had good reviews and we made a lot of new friends which would prove very helpful for future exhibitions.
With Tchera and Alexis
Opening in Manhattan
Owing to my successful debut in Italy, I would be lucky enough to hold further shows in New York.
'Morant in Manhattan'
Paintings by Keith Morant"
Please join us on Thursday, April 24, at:
ACCESS ART 365 West 36th Street from 6 – 9p.m.
to celebrate with us the opening of:
'MORANT IN MANHATTAN'
Keith Morant, a very talented New Zealand based artist, has netted three prestigious awards during his recent exhibition tour of Italy. These include the prestigeous"Lorenzo Il Magnifico, Premio alla Carriera" award. (lifetime achievement in art) at the Florence Biennale Internationale dell'arte Contemporanea.
We are honored to announce that he has chosen Access Art for his spring exhibition in New York.
His work – always "a journey into the essence of being", combines radiant vibrancy and electrifying intensity in harmonious compositions. Every painting is a new experience that strives to activate a mutual consciousness between the artist and the viewer. It is Keith's declared goal to "become conducive to some small expansion of human conscious awareness".
We are sure you will enjoy Keith's work as much as we do and are very much looking forward to welcoming you on:
Thursday, April 24, from 6 – 9 p.m. to the opening reception at:
ACCESS ART
365,West 36th Street, New York, NY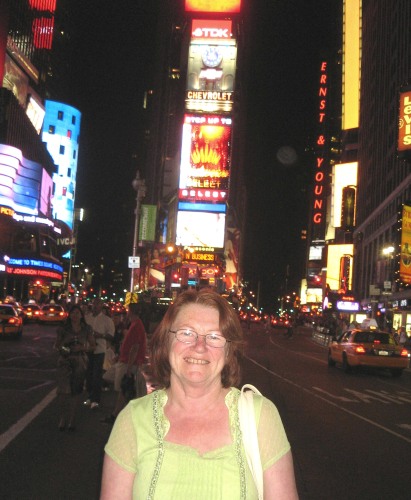 Tricia in Times Square, NY.
530 West 25th Street New York
PRESENTS:
GLOBAL FUSION ARTS
HARMONY OF ELEMENTS
Paintings by:
Keith Morant
Farhana Achter
C. Bangs
Nadiya Jinnah
August 5th – 23rd, 2008
Opening Reception: Thursday, August 7th, 2008, 6-8pm
Global Fusion Art is proud to present a group exhibition exploring the creation and existence of harmony and balance of environments in physical, psychological and ethereal planes.
Nadiya Jinnah, Morant and Farhana Achter
Keith Morant of New Zealand, emulates the power of music and evokes the universal through the specific. It seems that this is only achieved by attaining synchronization of conscious and unconscious mentality. It is through this mental and emotional balancing act that one may encounter a new order, logic of chaos – nature itself.
Farhana and Nadiya

Farhana Akhter explores the transformative journey from chaos to harmony and grace. To capture the transitioning stages of motion, fusion and stillness evident in all aspect of life, her mixed media paintings incorporate found objects that are symbolic of the transformative process by combining materials with organic and inorganic elements.
C. Bangs with her paintings.

C Bangs investigates frontier science combined with symbolist figuration and quantum equations as design elements, which refer to the interconnectivity of everything and the relationship of time and space. Archetypes of the Earth and cosmological elements are depicted from an ecological feminist perspective.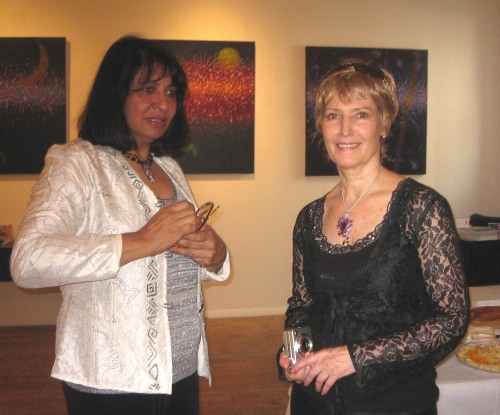 Nadia Jinnah and NY Artrepreneur Renee Phillips.
Nadiya Jinnah's work shows an infinite variety of textures and depths, which physically express the essences of organic landscapes like a rocky surface, heather on the fields or an ocean floor. Surface color on the very tactile background, create a subtle illusion and an experience of reality beyond the physical world.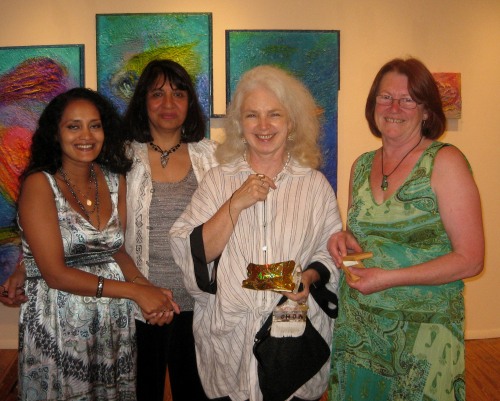 Farhana Achter, Nadiya Jinnah, C. Bangs and Tricia Morant at NoHo Opening NY.

Global Fusion Art is a collective group of multicultural artists and communities committed to support cross-cultural understanding through visual arts, music, performance and multi-media. We seek to raise awareness of the global community and promote individuals and organizations that provide humanitarian services across the world. For this exhibition, artists have pledged 10% of sale price of artwork and proceeds will be donated to the Nature Conservancy, protecting nature and preserving life worldwide.


Another very fortunate New York represenation for me has been
MANHATTAN ARTS
Renée Phillips, "The Artrepreneur Coach", is an author, career consultant and coach, offers private consultations, portfolio reviews and workshops to help artists take their careers to the next level. She provides objective guidance on creative direction, promotional materials, and marketing venues.

Check her out at: www.Manhattanarts.com

As a pioneer in her field and artists' advocate she has curated more than 150 art exhibitions. She was the Editor-in-Chief of Manhattan Arts International magazine for 17 years, before establishing www.ManhattanArts.com. She is a frequent keynote speaker for art insitutions throughout the U.S. Renée is also a member of the International Association of Art Critics.
In May 2011 I was due to fly out to Toronto for the opening of the exhibition 'Shakespeare Asides'. However, because of the devastating sequence of earthquakes and aftershocks that hit Christchurch, it was impossible to leave home. Fortunately I had sent the paintings on ahead and they were received in time for the opening and exhibition.
This series of six paintings were based on the format of the Shakespearian (as apposed to the Petrarchan) sonnet. I spent many hours studying and practicing Elizabethan script in order, not to 'write' it, but rather to 'feel' it. The idea was to get the viewer to be initially attracted and move closer to the work in order to 'read' it. Then this 'feeling' could be emotionally transmitted. Hopefully, this would engender (through the transparency), a deeper psychological awareness of an underlying sense of historical data - perhaps the realisation that even emotion expressed through creativity is also historical fact.
The use of Shakespeares words as my title seemed highly appropriate.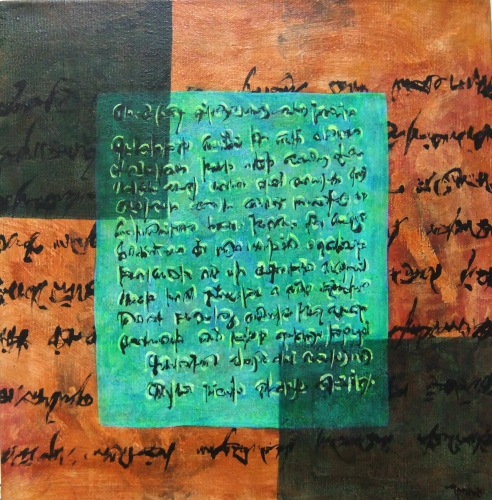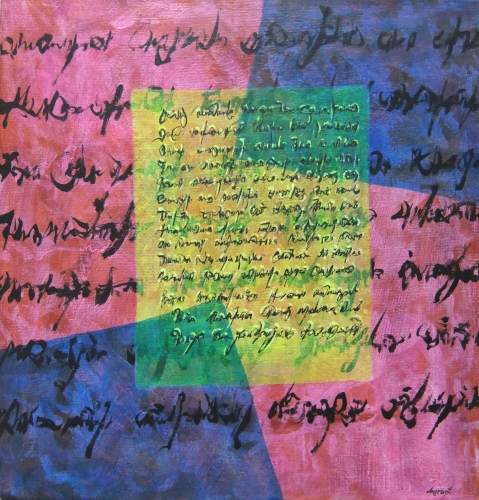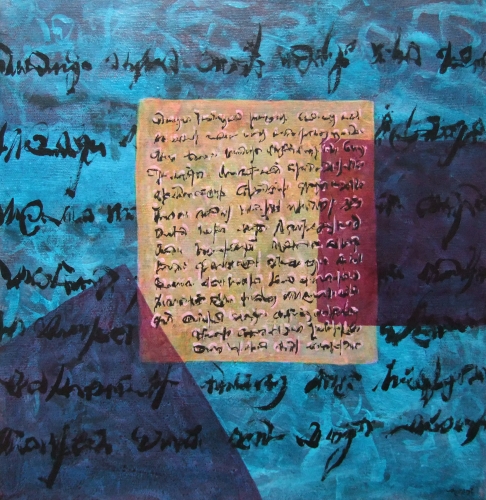 SHAKESPEAREAN ASIDES (Catalogue note)
For me, the most exquisite jewels in the crown of English literature are Shakespeare's sonnets. This sequence of Elizabethan pearls that encircle the epoch of the great poet's life and loves has always been a fascinating joy and deep inspiration to so many. These paintings are my humble homage to the man and his work. It is my hope that they may transmit a small token of his precious mystery that forever resonates and enriches our lives. When I was kindly invited to contribute to this exhibition I felt very thankful to Patrick International Fine Art for the opportunity to express publicly my deeper feelings and love for 'the Bard'. They are, without doubt, my 'Shakespearean Asides' and knowing that they will be exhibited in honour of the poet himself alongside of the great Stratford Shakespeare Festival – I am doubly honoured.
PATRICK INTERNATIONAL FINE ART
PRESENTS
'TORONTO TARANTELLA'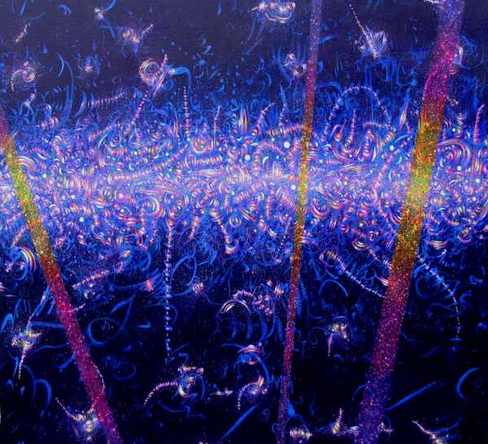 Toronto Tarantella Mixed media on canvas, 910 x910mm
A solo exhibition of paintings
by
KEITH MORANT
April 3rd - 28th 2012

Patrick International art gallery
190 Davenport Road
Toronto
www.PatrickinternationalFineart.com