1980s
By the eighties I was becoming more settled in Christchurch and well into my stride as a creative force. The paintings were coming thick and fast and I was also studying hard. My researches into the history, philosophy and psychology of art became more intense and it was at this time that the writing of my 'Art Notes' began. These jottings were later to become an important feature of art communication for critics and artists and were serialised in American Art magazines.
(see: www.keithmorant.com).
I exhibited regularly at the Canterbury Society of Arts (CSA) and contributed to many smaller group shows at city galleries. I held a very special show at a new large central city hotel called 'Noah's'. I painted a large canvas for the event titled 'The Ark'.
With 'The Ark'
The Ark
I also held a wonderful exhibition at the Canterbury Society of Arts (CSA). This gallery is now known as the Centre of Contemporary Arts (CoCA) and has been the major Exhibition centre of Christchurch for many years. My show at this time was a series of large black and white paintings depicting people viewing an exhibition. It was titled 'Exhibition of an Exhibition' and for the opening night Tricia and I dressed up in historical costumes. It was a very well attended extravaganza (even the Christchurch Wizard turned up with his retinue). After the opening we all went off to a wonderful restaurant called 'Spratts' for a champagne and seafood supper. Needless to say, while some paintings sold at the show, the bill for everything far exceeded any remuneration received.
Tricia at CSA exhibition
Exhibition Of An Exhibition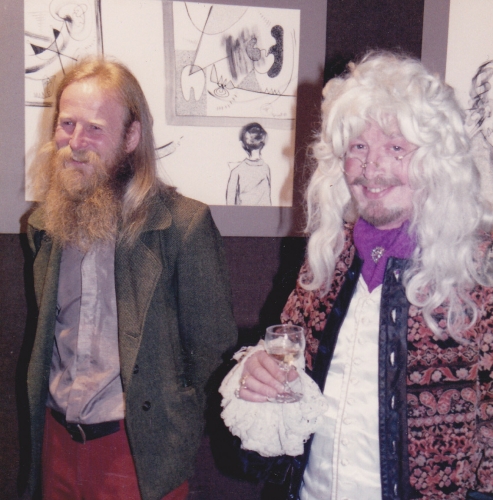 With Sculptor Llew Summers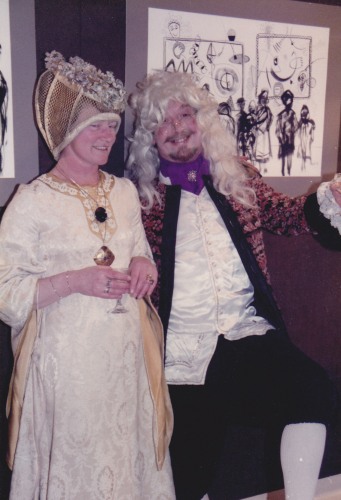 Exhibitionists!
In 1985 I entered what was then termed 'The Montana Art Award' (now the 'Montana Book Award'). This was a National competition held by the leading North Island wine organisation, Montana Wines. It was the first (and only) art competition I have ever entered. There were many hundreds of entrants from all over the country and I had, on the advice from a friend, sent one painting at the last minute. To my great surprise the painting 'Performance' won an award and a cash prize. We were flown to Gisborne for the presentation.
'PERFORMANCE' Montana National Award Winner
Celebrating with 'Performance'.
Following this, my work seemed to get a little more attention and I was interviewed by the local Press.
I was really pleased that they used my words for their headline.
In 1986 Tricia and I spent a month in New York. This was an exiting time, especially from the art point of view. We visited many galleries and museums and were generally overwhelmed by the sheer combustion of energy and diversity of life. We made many new friends and promised ourselves, and them, to return soon.
We came home reinvigorated and ready to take on anything. I quickly resumed painting and some pretty large works came out:
Great Expectations 2 meters x 90cm
Fandango 2 meters x 90cm
Studio shot 1986
Treasure Hunt 1200 x 1200mm
Music For Tricia 2 meters x 90cm
In 1988 I travelled to London for a solo exhibition at New Zealand House. The opening of this exhibition was supported by Montana wines and the NZ dairy board. It felt a bit strange but I was happy to be exhibiting in the UK as a New Zealander.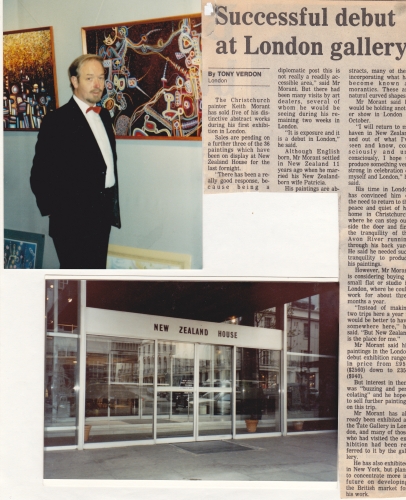 London 1988
Success in London
London newspaper hype
While I was in London a great National charity telethon was being held in New Zealand. I donated a painting for auction with all money going to the cause. I am happy to say that the work went for a vey high price to a well known London business personality. The Painting was titled 'Papal Visit'.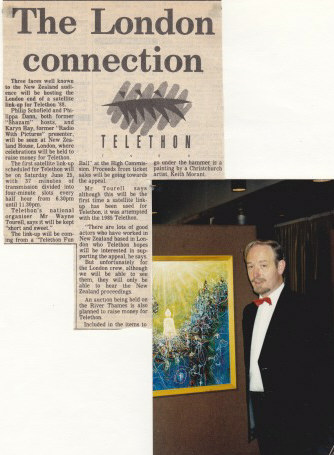 Papal Visit
Following my return to Christchuch, I was approached by the TV presenters of the Telethon who had heard of my show in London. They asked me if I would like to do something for the cause (Home and Neighbourhood Trust) in Christchurch. This culminated in me using the foyer of the Christchurch Town Hall as a studio for the 24 hour televised duration of the Telethon. This also connected with the celebratory charity ball in New New Zealand House, London. The canvas I painted was based on the logo of the Trust and again was auctioned off for the cause.
Paintings on both sides of the world
Telethon painting 1988
For the next year I continued working and exhibiting in Christchurch. I painted a second version of 'Performance' and mounted an exhibition around it at a small gallery in Merivale, Christchurch. To my surprise this work sold (unseen) over the phone to a collector before the show opened.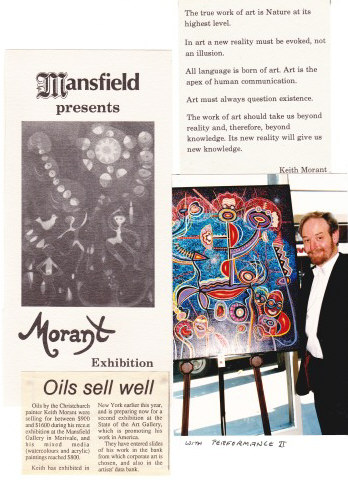 With 'Performance II'
Another solo Exhibition in Christchurch at this time was held at the Centre of Contemporary Art (CoCA) This was titled:
'Little Journeys'

Little Journeys
I wrote a catalogue introduction to the exhibition:
After many years of painting I believe these works to be my deepest enquiry to date into the sensibilities of the creative unconscious and its relation to conscious awareness. For me, a work of art is always an answer looking for its question, and these works are simply new metaphysical conclusions awaiting research. Delighting in the discoveries of quantum physics on one hand and deeply moved by the truths of Zen Buddhism on the other, I find myself very aware of the transient and ephemeral nature of all our so-called journeys. For me, it has been a great revelation to learn that the 'Quantum Field' of the physicist may be interpreted as the 'Void' of the Eastern Mystic. For the physicist, recent discoveries in the atomic world have usurped the great traditions of Newtonian theory with conclusive proof that absolutely nothing is certain (Heisenberg, The Uncertainty Principle) also, that absolutely everything is inter­related (Bohm, The Implicate Order). The 'journey' is a mental construct of the dualistic mind, which says that if it has a beginning then it must have an end. The quantum physicist who proves that a single atomic particle travels simultaneously as a wave soundly refutes this; and the Zen Master equally rejects it when he reveals existence and non-existence to be one entity.
Journey By Day
However, in the lesser realm of our everyday intelligence, through space and time (and space-time) all is directional movement of one kind or another and there is nothing in all existence that is not regarded as a journey of some kind.
While these paintings, then, are inspired by the greater ambiguities of existence they are at the same time an effort to arouse a deeper questioning of our commonly accepted lot of linear time within limited space. On this basis I use the journey as a metaphor of all evolutionary force, whether it be the 'physical-to-intellectual' of life and growth, or the 'unconscious-to-consciousness' of mind and spirit.
My own little journey has brought me to New Zealand, where, after twenty-five years, I am coming closer to achieving the two ambitions of maintaining my art 'habit' and graduating as a Kiwi. After several recent extended romps overseas I have learned to appreciate the special ness of this 'Fairyland' which, I have personally dubbed 'Dairyland1 (there seemed to be one on every corner) and value its tranquility so conducive to my work.
I have come to the conclusion that any truth in my creative expression (whether initially acceptable or not) must be uncompromising in its concern with these universal paradoxes. If art is to function as a means of expanding conscious awareness (which I believe it must) then it is my sincerest wish that these efforts, as they move along their own 'little journeys', will continue to stimulate such awareness - long after all of our little journeys are over.
Journey By Night
In 1989 we returned to New York via London. We stayed with friends in central London and I contributed to a few small gallery shows in the city. (Hyde Park gallery, England and Co). When we arrived in Manhattan I hired a large studio in SoHo on Broadway. I worked there every day and produced a completely new portfolio. (See under New York)