RHYTHM OF THE WORLD
August will see the grand opening ceremony of our
largest and longest exhibition to date:
https://www.youtube.com/watch?v=Y_i-UW9N3AA
Forward to the exhibition by Venerable Abbess Manshin:
 Heavenly Sounds
Buddhist hymns are elegant, solemn and are revered as songs heard in the sky, but rarely heard in the human world.  In order to enable heavenly sounds to be heard by us, Founder of Fo Guang Shan, Venerable Master Hsing Yun, began to propagate the Dharma through music more than 60 years ago.  This method of propagation of the Dharma has sparked off various competitions and performances known as Rhythm of the World.  Not only can this be heard, but it is also widely loved by the public, representing a marvel in the propagation of Buddhism.
Similar to faith, music has no national boundaries and is able to transcend the barriers of time and space. World famous New Zealand artist Keith Morant felt the penetrating power of music and decided Rhythm of the World as the theme of his exhibition in Fo Guang Yuan Art Gallery Auckland.  This is yet another presentation of Keith's art pieces which transcend music, art, language, religion and life.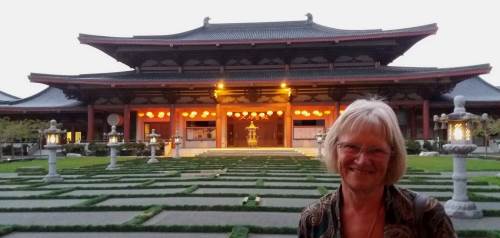 Keith expressed that musical notes are represented in all parts of our lives.  These musical notes are present in the wind, rain, moon, starts, sun, flowers, trees and grass.  There are notes of sadness, joy, food, people, buildings… and there are even notes of silence.  We live within a world of musical notes and these notes require us to use our heart to hear and feel them.  As such, Keith, through his heart and paint brushes, has depicted the various notes of life.  He has used the goodness and beauty of these notes as an offering to the humankind.  These beautiful notes form the most touching Rhythm of the World.
Keith Morant provides a sacred and solemn theme at each of his exhibition and his creations are filled with hope, joy and energy. He waves his brush ceaselessly, not letting go of opportunities to colour any surface he can find. Like a conductor conducting a symphony, orchestrating each musical note, he has brought the happiness and harmony of these heavenly sounds to the human world.  He is a born artist as well as a musician of the mind.
This massive exhibition was beautifully curated by Venerable Abbess Manshin and her excellent team of helpers. The opening ceremony was spectacular with speeches from many important Auckland dignitaries and we were both elated and deeply humbled.
  ************************************************************************************************************
June this year saw the opening of our dual show at the Windsor gallery in Christchurch. We also staged another great exhibition of thirty Canterbury artists through the Morant Foundation.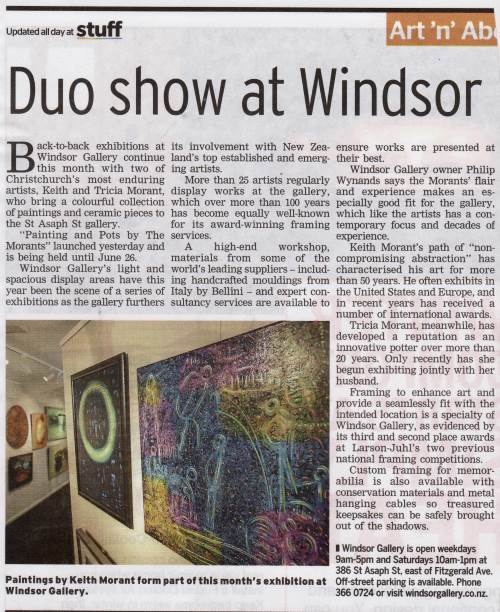 This year will see our largest and longest exhibition to date. Following the success at the 2017 Fo Guang Yuan show 'Ringing True' in Christchurch, we have been offered the great Temple in Auckland as a wonderful venue for this exhibition. We are especially pleased as, while we have spent many years showing work overseas, this will be our very first exposure in Auckland.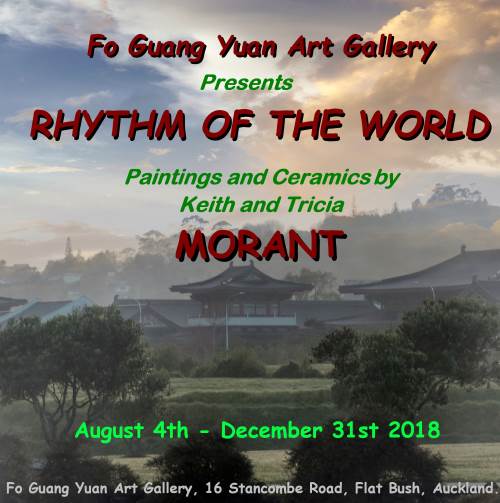 2017 ended with a glorious finish to the five month exhibition 'Ringing True' I was indeed greatly honoured by the Fo Guang Yuan Art Gallery for this opportunity to showcase my work in their beautiful Christchurch Temple. They have now offered me their Auckland Venue. This is much larger than Christchurch and many of my paintings will be on show there. The opening ceremony for this exhibition will be on August 4th and the show runs until December 31st.
The 'Ringing True' exhibition of over 250 works closed on Christmas Eve and this was quickly followed up with a request to speak publicly to many invited guests on my work philosophy and art in general.
In February the newly formed Morant Foundation presented its inaugural exhibition of over thirty artists at the Art Centre of Christchurch. The Foundation underwrote, selected and curated this wonderful eclectic exhibition. Many artists were exhibiting for the first time and presented their best work with great pride. Four sponsored awards were donated from local art galleries and art suppliers and a special cash award was presented by the Morant Foundation.