PATRICK INTERNATIONAL FINE ART
PRESENTS
'TORONTO TARANTELLA'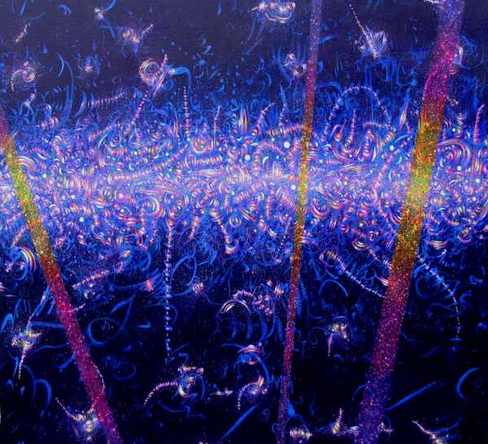 Toronto Tarantella Mixed media on canvas, 910 x910mm
A solo exhibition of paintings
by
KEITH MORANT
April 3rd - 28th 2012

Patrick International art gallery
190 Davenport Road
Toronto
www.PatrickinternationalFineart.com

In May 2011 I was due to fly out to Toronto for the opening of the exhibition 'Shakespeare Asides'. However, because of the devastating sequence of earthquakes and aftershocks that hit Christchurch, it was impossible to leave home. Fortunately I had sent the paintings on ahead and they were received in time for the opening and exhibition.
This series of six paintings were based on the format of the Shakespearian (as apposed to the Petrarchan) sonnet. I spent many hours studying and practicing Elizabethan script in order, not to 'write' it, but rather to 'feel' it. The idea was to get the viewer to be initially attracted and move closer to the work in order to 'read' it. Then this 'feeling' could be emotionally transmitted. Hopefully, this would engender (through the transparency), a deeper psychological awareness of an underlying sense of historical data - perhaps the realisation that even emotion expressed through creativity is also historical fact.
The use of Shakespeares words as my title seemed highly appropriate.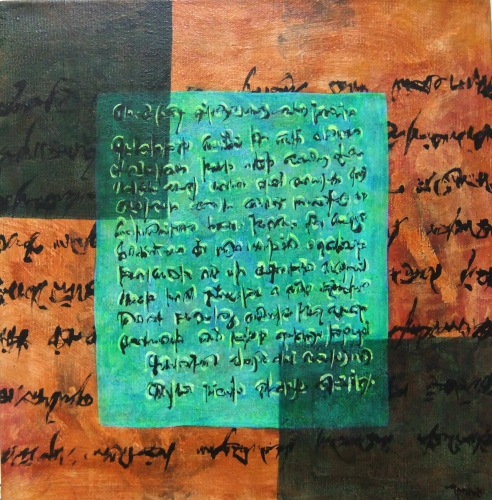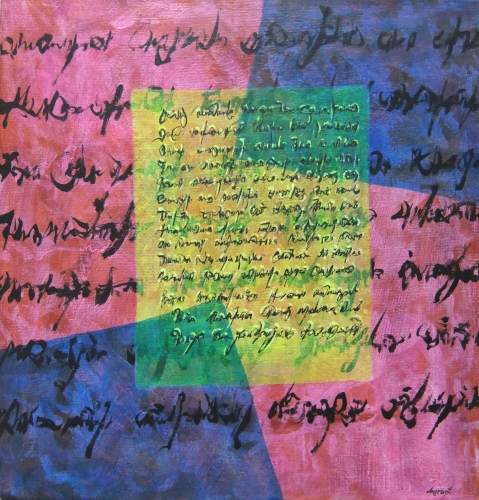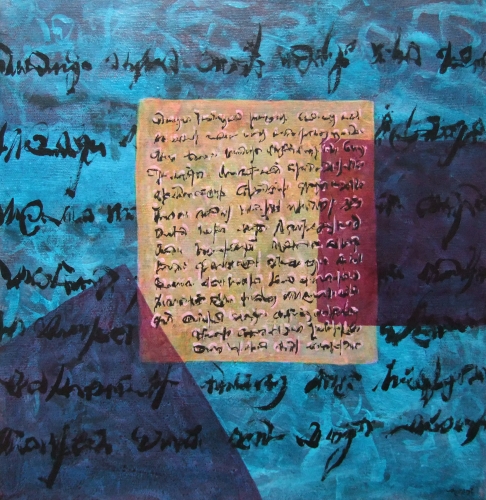 SHAKESPEAREAN ASIDES (Catalogue note)
For me, the most exquisite jewels in the crown of English literature are Shakespeare's sonnets. This sequence of Elizabethan pearls that encircle the epoch of the great poet's life and loves has always been a fascinating joy and deep inspiration to so many. These paintings are my humble homage to the man and his work. It is my hope that they may transmit a small token of his precious mystery that forever resonates and enriches our lives. When I was kindly invited to contribute to this exhibition I felt very thankful to Patrick International Fine Art for the opportunity to express publicly my deeper feelings and love for 'the Bard'. They are, without doubt, my 'Shakespearean Asides' and knowing that they will be exhibited in honour of the poet himself alongside of the great Stratford Shakespeare Festival – I am doubly honoured.