2000s
In 2000 I exhibited with the Christchurch gallery 'ArtHouse'. The Directors, Norma Dutton and Peter Gregg were exceptionally good to me and gave me a full solo show. In spite of my (and their) efforts to mount a strong cohesive exhibition, I have to say - it was a total flop.
The paintings were based around my new foray into texture and to this day, I am still proud of those creations.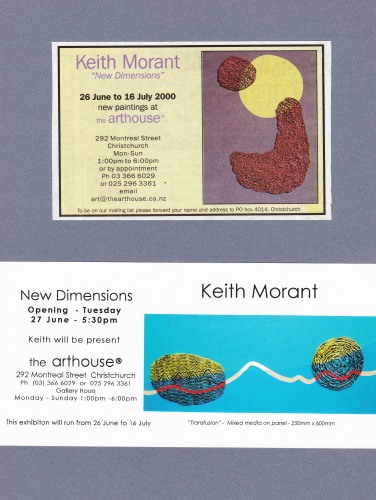 NEW DIMENSIONS
These works are an effort to a refining of direct communication through varying levels of 'controlled spontaneity' and, if an influence is to be identified, then it can only be through my Zen Buddhist studies and sensibilities of Oriental Art.
In the traditions of such art the creator is fully cognizant of the space as he is the marks or images that he places within that space. The unworked area, rather than be considered as merely background, is a vital part of the whole where the negative is energized by the positive and vice-versa.
Such painting, especially in the directness of Zenga brushwork, often includes the elaborate cartouche or seal of the artist. This is applied only after very careful consideration of its aesthetic relationship to the work as a whole. An ideal result is where all marks applied to the surface animate the unmarked areas into holistically inclusive expressions. It becomes a matter of dimensional harmonics – a balancing of form and emptiness in order that emptiness becomes form.
My development into the area of textural expression has led to deeper considerations of the potential tension and/or tranquillity in contrasting expressions on single plane. Through these works it is my hope that the interplay between the vigour of the texture and the calm of the colour will evoke in the viewer a greater sense of objective reality – an awareness of the 'new dimensions' that are inherent to all the mysteries and miracles of our reality.
I regard these paintings as a synthesis of my work over recent years and show them with particular gratitude to the directors of the ArtHouse gallery for their unstinting support of my work in its evolution to this level.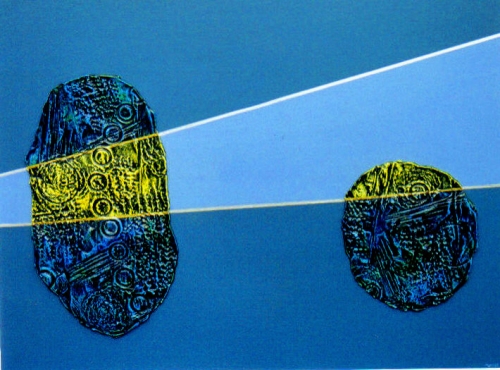 New Dimensions
Fruition
Spiritus Mundi
Orient
Aqua Marine
Rustic Furrows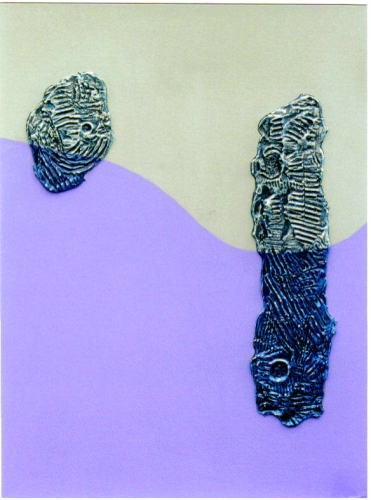 Intaglio Dream
This decade has been the most active and fruitful of my creative life so far. The progress and acceptance of my work outside of New Zealand has facilitated much travel and many new connections worldwide. It all started with strong invitations through the Internet and a lot of devoted time and expertise from my art curator and dealer Alexis Brown. Through her worldly knowledge and advice I was able to cope with the demands of handling overseas communication, packing and the legal ramifications of customs and shipping.
The work was progressing well and, apart from contributing to a few group shows, I was busy creating. I was still showing some work in Christchurch through the ArtHouse gallery and I had a show in Auckland with Gallery 16 (long since folded) and an exhibition at the Hyatt hotel alongside of (unbelievably) Yoko Ono.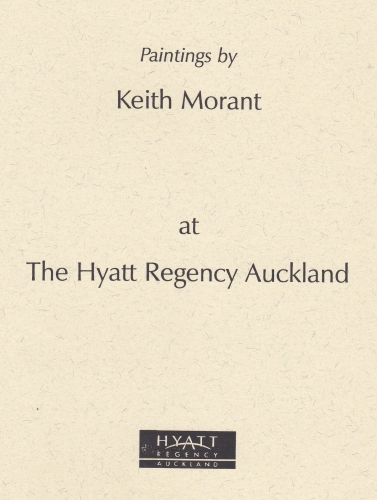 One of the unforgettable paintings of this time was the work born of pure emotional response to the attack on the Trade Towers of New York. I had a friend who worked in the Mayors Office in the first tower and she took me on a tour of the buildings in 1989. Many of her friends were lost in the inferno.
Requium
My first solo exhibition with Alexis Brown was a series of works based on the circle as an expression inspired by my Bhuddist studies. It was titled 'Beyond Opposites'
Ringing True II
Paradox I
Paradox II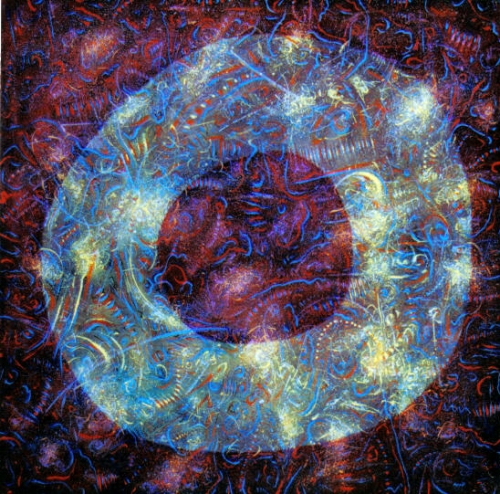 Circumstance V
Circumstance VIII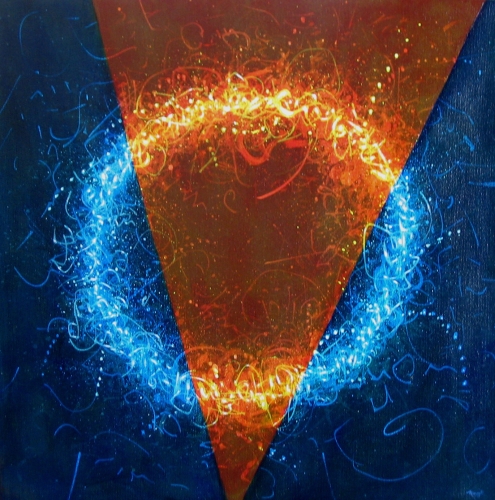 Zing
Alexis put together a very professional display of the works and the show opening was well attended with strong sales.
Another interesting little show that I held at this time was at a very fine Christchurch restaurant called 'Under The Red Verandah'. The title of the exhibition was 'Summer Of Victories'. This was inspired by original musical compositions from my dear friend Radha Sahar.
The works were still quite textural and visceral, and while a restaurant may not always be the best venue for art, I was pleasantly surprised at the local response. (In fact, one person tried to order a painting for dinner)!

Freeway
Sojourn 1
Sojourn II
Meanwhile, I was working well on many levels, including larger canvases like these: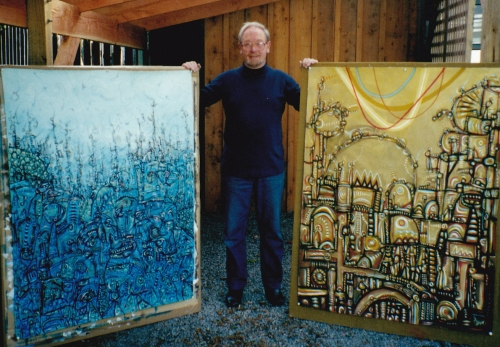 'Winter Song' and Autumn Song'.
With 'Quantum Dance'.
Another great show with Alexis Brown was 'Mixed Media'
City Moon III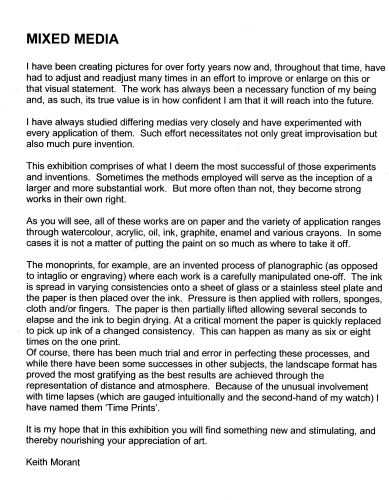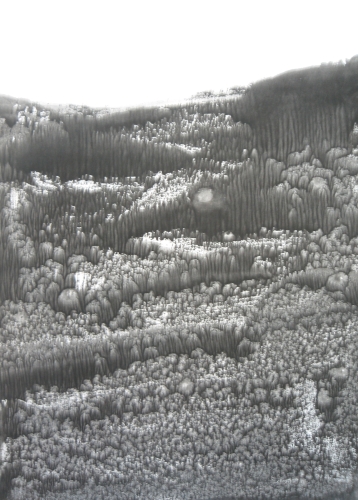 Time Print
Dairyland Dream
Seeking Buddha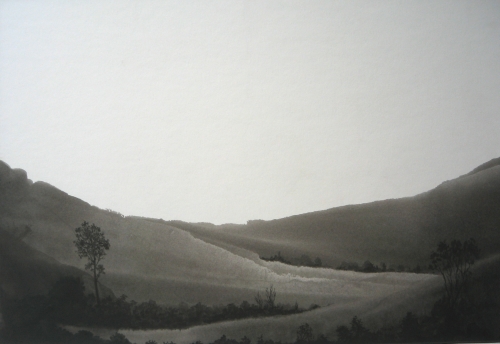 Time Print I
Time Print II
City Moon VI
This exhibition even got a review!
Loose Change
This was a successful exhibition in that the variety of applied techniques in the artwork was enjoyed by many. The Press review by Margaret Duncan was to be later used by publications in New York. At this time I was beginning to get good offers from America and, with the assistance of Alexis, moved towards my first showing of work in New York and Art Basel, Miami.
One interesting painting of this time was inspired by a visit to a light engineering workshop. A close friend of ours who is an engineer invited me to his workshop and I remember vividly watching him work on a large machine (a sort of metal lathe) and from his drilling spun very fine shiny silver threads of metal. They literally piled up beside the machine like a hoard of fairy treasure. This is called 'swarf' and it is the residue of the operational spinning. However, it seemed to me that he worked this machine purely to create this enchanting phenomenon. Anyway, I went home and painted this picture of him making his magic.
The painting was subsequently used as the cover picture on the next issue of the company magazine.
Swarfie
By now I had upgraded my studio space from back bedroom to double garage and it was at this time that I met Alexis Brown. She visited my 'studio' and chose paintings for her wonderful large Christchurch gallery. Over the next few years she gave me some marvellous and memorable shows.
It was at this time that I completed a large canvas that I titled:
'Vanity Of Memories'.
Thanks to Alexis Brown, it received good exposure in the local press together with news of my invitations to exhibit in New York and Italy.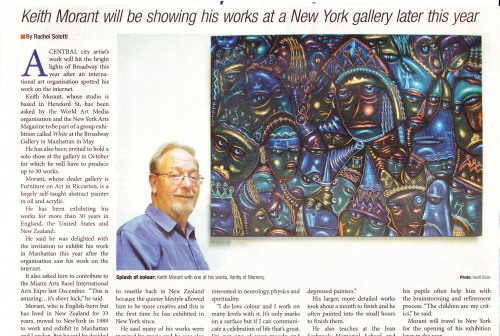 The next exhibition I held with Alexis was a wonderful effort on her part as much as mine. This was titled 'Towards The Light' and we made the best out of the fact that my work had proven desirable to my peers, albeit in foreign lands. The acclaim and invitations that I was receiving felt very much as though I was moving (at last) 'towards the light'.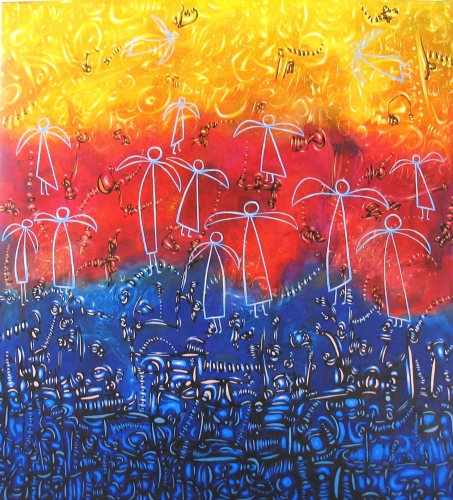 Towards The Light
Between Miracles
Another feature of this exhibition was my donation of a large canvas titled 'November Embers'. This work was sold at the exhibition opening by auction. It fetched a good price with all proceeds going to St Johns towards the purchase of a new ambulance. This went very well and generated a lively atmosphere to the exhibition opening.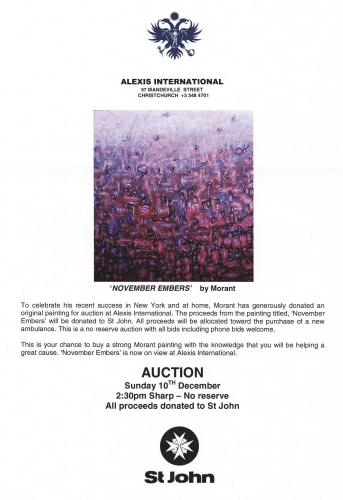 November Embers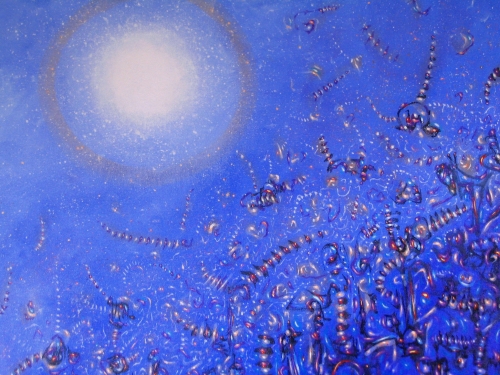 Crepuscule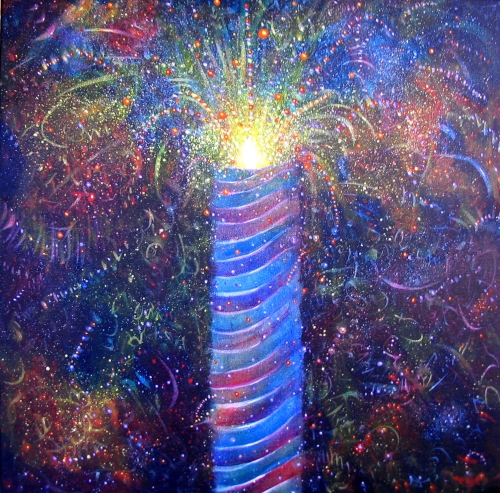 Roman Candle
Bonfire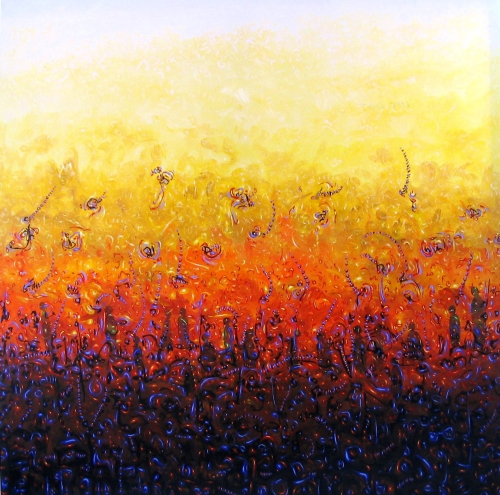 Life Light
Press coverage of 'Towards The Light'.
At this time my work was receiving much more attention from America and I was ready to return to New York.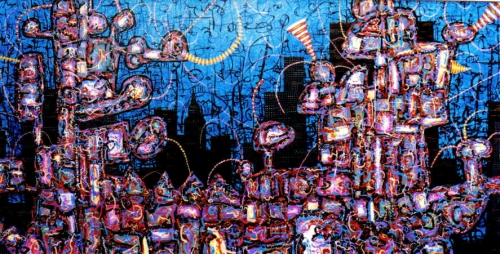 Americanticipation 2 meters x 650mm
And so, thanks to the exellent assistance of Alexis Brown who crated up and dispatched a whole exhibition of large canvases, as well as dealing with all of the officialdom of customs and insurance, we flew to New York. (See under New York)
Close on the heels of this great excursion, it was Italy and the Florence Biennale. (See under Italy)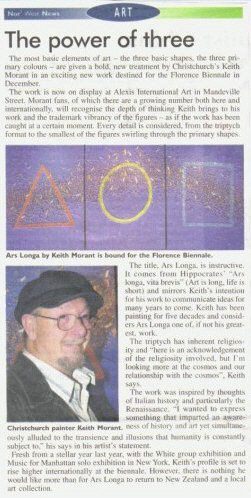 Press coverage for Florence Biennale award
Following our return from Italy my paintings were full of the wonders that Tricia and I had encountered. The only thing to do was hold another great exhibition in Christchurch with Alexis. Naturally it was titled:
'ITALIA'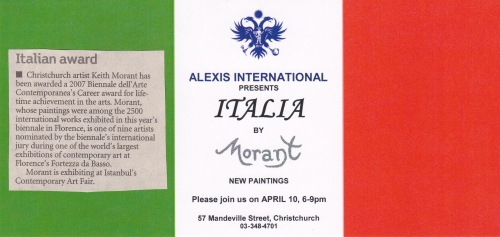 The opening of this exhibition was an amazing event. The great Maestro, Anatoly Zelinsky (who played at all of my shows) played fine Italian music on his viola and the crowds were charmed by the great display of paintings organised by our hostess and director, Alexis Brown.
With Alexis Brown, Anatoly and Inna Zelinsky
Italia I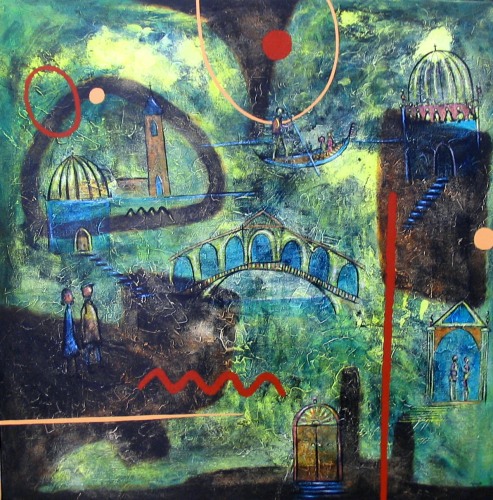 Italia II
Buona Notte
Eternal City
Pisa
Piazza I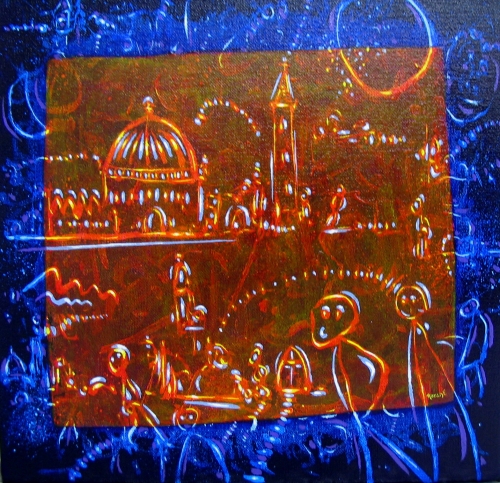 Piazza II
Siena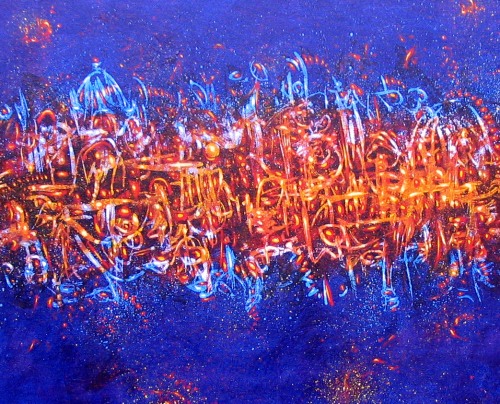 La Notte, a Festa, il Piacere!
Straightening
There were other shows with Alexis Brown and she always represented me through a strong collection of my work. One of these shows was particularly significant in that it carried my new work based on the human visage; 'The Psytrait'. For more information on this see my 'Art Notes' on www.keithmorant.com This exhibition was titled 'The Woodhaven Paintings', so named from the house where my studio was at that time.
Psytrait III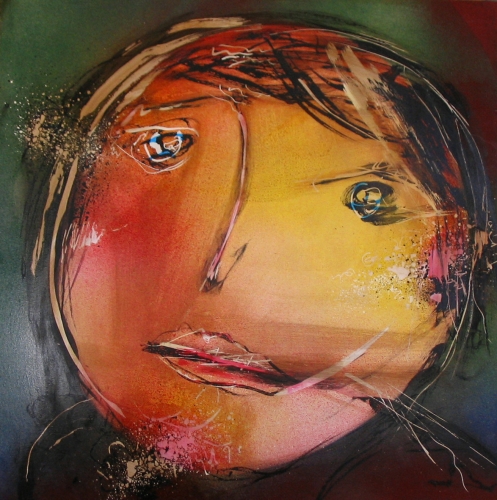 Head Of A Boy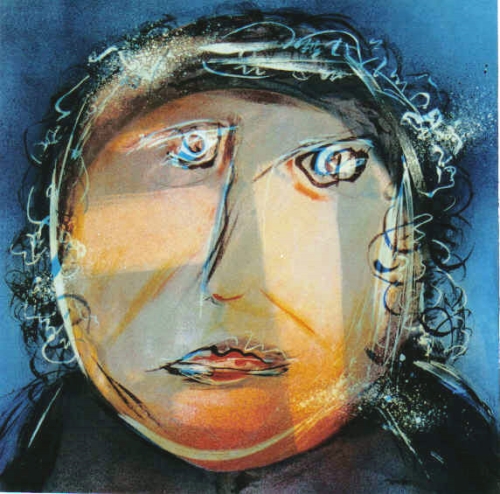 Head Of A Woman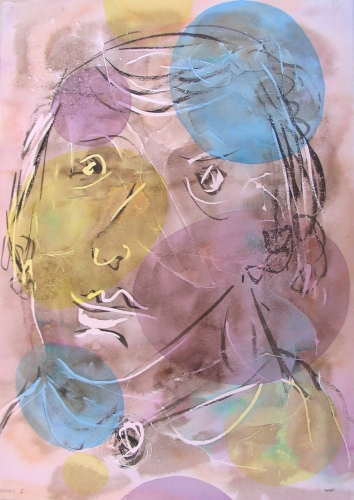 Psytrait IV
This was the time of much travel for Tricia and I and we spent many great days in New York and Italy. The Italians were especially welcoming and looked after Tricia and I as their own. Between trips I was represented in Christchurch by the Bryce Gallery. Denise Bryce is a lovely congenial soul and runs a very well patronised gallery. I placed some smaller works with her.
Psytraits at the Bryce gallery
With Denise Bryce, Bruce Church and Tricia.
At this time I was approached by the award winning film maker Shaun Garae of (Estrata Productions). He had seen my work and visited me to ask if I would contribute some art for his new feature film. This was to be a new version of 'The Trial' by the great Czech author, Franz Kafka. As I have always been an enthusiastic admirer of Kafka, Shaun and I got on very well. In fact, I was soon deeply involved with the project as a producer and My dear friend Anatoly Zelinsky worked very hard at composing new and very original music as the score while I began a new series of paintings inspired by my re-aquaintance with the great author. Shaun Garae shot several scenes as pre-production for a DVD that I was later to take to Prague and deliver personally to the Kafka Society.
The film was to be titled 'A Dream Of Dark Colours' and as a local promotion we decided to hold an exhibition of my paintings with a grand opening at which the promotional DVD was to be shown. Denise Bryce of the Bryce gallery pulled out all the stops and gave us a wonderful opening.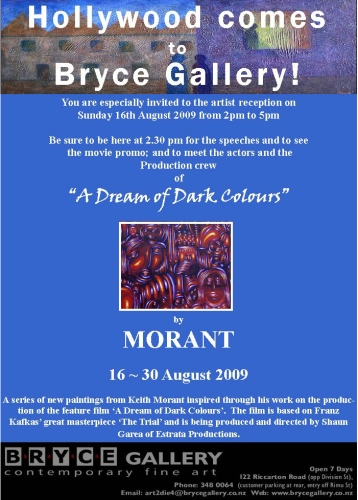 A Dream Of Dark Colours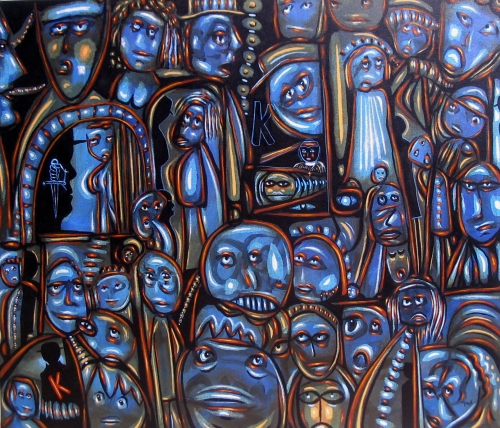 The Trial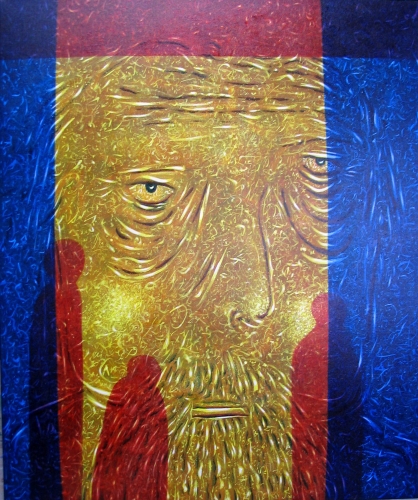 The Advocate
A DREAM OF DARK COLOURS.
A Feature film base on 'The Trial' by Franz Kafka. Produced by Shaun Garea and Keith Morant. (Estrata Productions).
My interest and involvement in the making of this film is motivated by my enduring admiration for Kafka as an artist. Because he lived his life wholly through his art (indeed, it was his life's therapy) and because he never compromised the truth of his vision, I regard him as a true artist - beyond the other appellations of 'author' or 'philosopher'.
His short life was an ongoing battle against depression and self-doubt and his work, through the medium of fiction and parable, examines the deeper themes and archetypes of the human condition. In his writings he assailed the notions of the bourgeoisie by tearing down the images of their comfortable and anecdotal world and replacing them with a series of pictures containing the greater truths inherent to their predicament. These creations were bizarre and illogical. What began and seemed to be an acceptable account of normal experience turned into a very nasty, yet somehow ominous, dream - in fact, a nightmare that projected through its spectral utterances, new and terrifying truths.
Kafka lived through an epoch that saw art triumph though its confrontations with angst and suffering. This was a time when art, philosophy and the newly emerging psychoanalysis, looked deeper than ever into the very essence of man. This was the time when Nietzsche informed us that 'God is dead!' and the harbingers of world war haunted the gates of our psyche.
The art of this time encapsulated and expressed this neurosis. They were termed the Expressionists (as apposed to its preceding school of illusion and idealised banality, the Impressionists) and for me, Kafka is a major artist inextricably linked to these creators. They looked deeply into the anguished soul of man and with the surgical scalpel of creative enquiry, laid bare the falseness and illusions of his state and direction.
In Kafka one may feel the frenetic stare of Van Gogh or glimpse the sharp-featured 'Watchers' of Kirschner. One may shrink from the mad grimaces of Ensor or shudder at the 'Phantasmagorias' of Redon, but most of all one hears the echo of Munch's 'The Scream'.
Kafka was of this school. His art, which adeptly presents and maintains the acceptable and commonplace, twists and fractures his subject into another dimension – another reality – where we may discern dark coloured truths that force us to question more closely this absurd phenomenon called existence.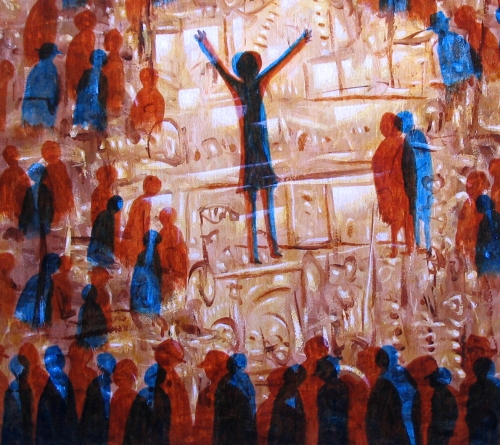 Judgement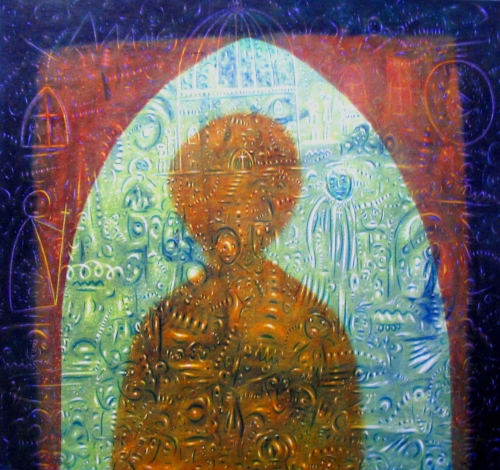 Fear and Faith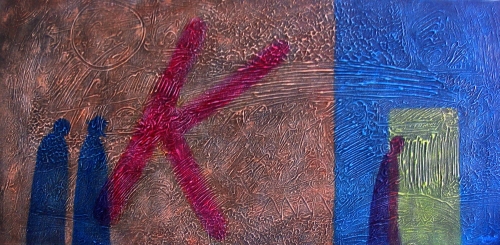 Followers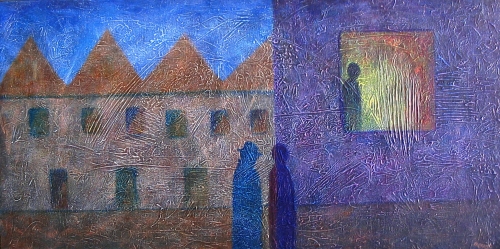 Watchers
This was a tremendous show and the opening was crowded to capacity.
While I took the news to Prague, New York and Italy, response was minimal and, while there may still be a glimmer of hope, unfortunately, owing to financial difficulties, the movie is currently on the back foot.