2012 Saw the great exhibition 'SONGS FOR SYDNEY' (see Australia). This show was held for the month of June at the Global Gallery in Paddington, Sydney.
Tricia with 'Endymion' at 'SONGS FOR SYDNEY'.
Me between 'Moon Song and Solar Song' at SONGS FOR SYDNEY.
It was also the year when I held a solo show at Patrick International Fine Art in Toronto.
Patrick International Fine art Gallery with Morant exhibition.

Musicians from the Christchurch Symphony Orchestra were scheduling a sequence of concerts of Baroque music and honoured me by asking if I would allow them to use one of my paintings as their advertising poster. The work they chose was one of my Italian inspired pieces titled 'La Notte, La Festa il Piacere' (The night, the party, and the pleasure).
This was the result:

I was doubly honoured when they asked if one of my paintings 'Baroque Obsession' Could be displayed on stage at all of their concerts.
Baroque Obsession Mixed media on canvas 910 x 910mm
It has been a very strong year creatively and the studio has been a hive of activity.
Me at the easel with Dvorakiana.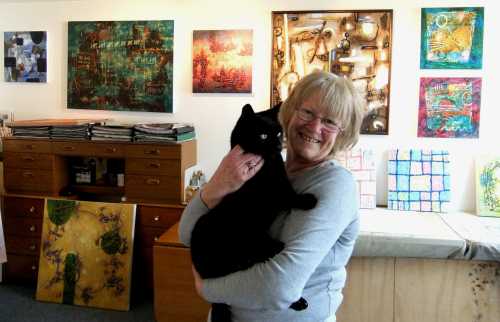 Tricia in the studio with Schrodinger
In my studio
I was approached by the committee of the Christchurch City Choir for a donation of artwork for their Fine Art Auction fundraiser:
The Christchurch City Choir
Proudly bring you
ART IN A HANGAR
The inaugural fundraising art auction.
Thursday 25th October 2012 7.30 - 9.30pm
Air Force Museum, 45 Harvard Avenue, Wigram Park.
Join the choir for an evening of drinks and canapés, music and what promises to be an exciting auction of artworks by well-knownNew Zealand artists, and special "doodles" from famous New Zealanders such as Prime Minister, Rt Hon John Key.
Tickets are $50 each and available from:
All art works will be available to view online from
11th October at www.christchurchcitychoir.co.nz
SPECIAL THANKS TO:
The work I donated to this great cause was a recently completed canvas titled 'FACEBOOK':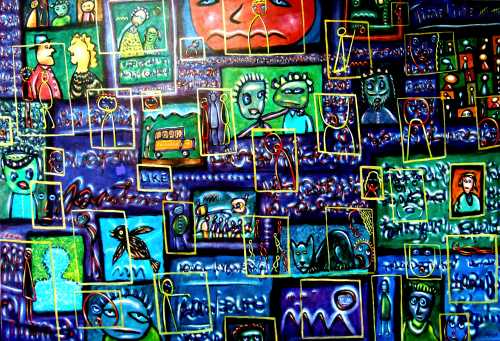 Facebook Mixed media on canvas 1500 x 2500mm
(I am happy to say that it reached $5400).
At this time Paola Trevisan, of Trevisan International Art, became my official representative in Italy and Europe. I have been working and exhibiting through Paola for over five years and I am happy to say that she has now become my personal representative and dealer.
One of my larger canvases this year was 'Blue Moon'. This title comes from the idea that if a calender month has two full moons then the second of these is known as the 'blue moon'.
With 'Blue Moon'

At the request of the Consulate of the Czech Republic in Sydney, I held a very special exhibition in my studio. This was primarily for the Czech community of Christchurch showing, for the first time in New Zealand, the work of renowned childrens author and artist, Zdenek Miler. Miler was Europe's answer to Walt Disney and his 'Little Mole' was their Mickey Mouse.

My studio echoed with Czech childrens laughter, games, puzzles, music and art.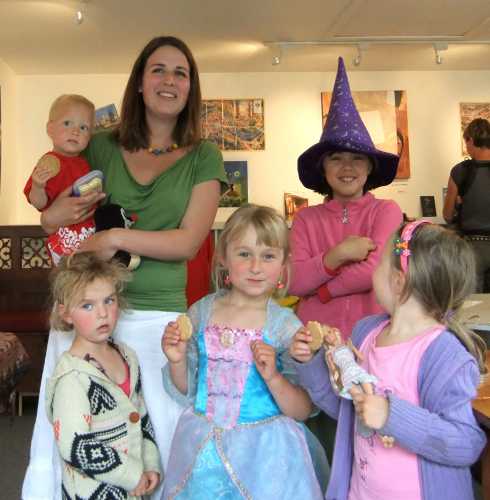 Through books and film the 'Little Mole' has been a much loved favourite of European children for over fifty years, and, while this exhibition was with children in mind, I know that many happy parents came along out of sheer nostalgia.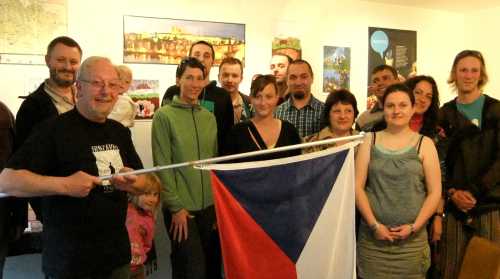 With the flag of the Czech Republic and friends from the same place.